Nationwide support ensures lasting harvest of underground findings on plateau
Captivating picture of ancient cultural exchange routes across the Qinghai-Tibet Plateau, which stands more than 4,000 meters above sea level against a picturesque backdrop of snow-covered mountains, is gradually emerging from below ground.
Thanks to recent discoveries in Damshung county on the outskirts of Lhasa, capital of Tibet autonomous region, archaeologists are learning more about how different ethnic groups from the 7th to 9th centuries communicated with one another.
In 2020 and last year, Tashi Tsering, an archaeologist at the Cultural Relics Conservation Institute of Tibet Autonomous Region, and his colleagues excavated 36 tombs from that period.
Forming part of a cemetery, 52 tombs with earthen mounds have been discovered at the Damshung site, along with some 300 cultural relics, including fabrics, gold and silver artifacts, gems and pottery.
For Tashi Tsering, who gave a public briefing on the findings during an online conference organized by the National Cultural Heritage Administration on Jan 13, the site offers exciting prospects.
"This is the first comprehensive excavation in Tibet of a complicated cemetery with earthen mounds from that time," he said. "Many of the unearthed relics feature typical characteristics from the plains of Central China and neighboring cultures."
From the 7th to 9th centuries, the powerful Tubo kingdom's rule spread across the Qinghai-Tibet Plateau. Meanwhile, to the east, the Tang Dynasty (618-907), famed for its inclusive culture, also experienced a golden era of the Chinese imperial age.
As a result, communication between the two sides was inevitable, and is best witnessed by visiting the Damshung site.
For example, black-and-white stone pieces from the traditional Chinese board game Go, or weiqi, were discovered. A pair of golden ear picks adorned with lion- and bird-shaped designs, along with some lacquerware fragments, were also among the main findings.
Tashi Tsering said: "None of these items had been sighted in previous archaeological excavations in Tibet. Go, of course, originated in Central China and was widely popular during the Tang Dynasty. Lacquer items and the decorations on the ear picks are also typical of this dynasty.
"These discoveries provide precious evidence of the cultural exchanges between the Tang Dynasty and Tubo, explaining how different ethnic groups came together," he said.
He added that the discoveries also provided a vital clue to studying Tibetan burial rituals during the Tubo period.
Shargan Wangdue, deputy director of the Cultural Relics Conservation Institute of Tibet Autonomous Region, said: "Tang and Tubo cultural influences benefited both sides. Mutual learning and interaction created prosperity."
Pottery shards from the Damshung cemetery, painted with human faces, especially attracted archaeologists' attention-providing the first evidence on the Qinghai-Tibet Plateau of the Tibetan tradition of using red makeup on the cheeks.
"This tradition was very popular in Tubo before it was widely adopted by other ethnic groups living on the plateau," Shargan Wangdue said.
As far away as Chang'an (present-day Xi'an, Shaanxi province), capital of the Tang Dynasty, the tradition also became fashionable among women.
"The Damshung site is just the start of a major project to unveil ancient roads connecting the Tang Dynasty and Tubo," Shargan Wangdue added.
'Silk Road on plateau'
The history of Princess Wencheng, of the Tang Dynasty, and the Tubo ruler Songtsen Gampo is a household story in China, highlighting the connection between the Han and Tibetan ethnic groups.
Following an edict issued by Emperor Taizong during the Tang Dynasty, the princess was escorted to Lhasa in the year 641, where she married the Tubo ruler. The marriage not only ensured a lasting peace between the two neighboring powers, but also started an active transportation network, known as the Tang-Tubo Ancient Road.
Shargan Wangdue said: "Elsewhere in China, we often find ruins of courier stations or castles along ancient trade routes. But in Tibet, traveling caravans didn't rely on these facilities when people needed to take a rest. Tents were all they required during long journeys across the plateau, so it's difficult to identify specific roads for today's scholars."
However, other types of relics indicate such cultural links in various ways. For example, in Dragyab county, Chamdo, in eastern Tibet, a number of Buddhist cliff carvings provided the focus for archaeologists' recent research on the ancient road.
Shargan Wangdue said these images not only depicted Tibetan monks, but also people from the Han ethnic group, while bilingual inscriptions highlighted close Tang and Tubo connections.
A similar stone carving site was found in Shiqu county in the west of neighboring Sichuan province, indicating a southern route in the road network.
Moreover, in Qinghai province, several key cemetery sites-thought after analysis of unearthed artifacts and tomb occupants' DNA to be from the Tubo period-were widely hailed by archaeologists as key findings.
The Quangou graveyard with frescoes in Ulan county, and the Reshui site in Dulan county, a graveyard for the wealthy and home to spectacular golden artifacts, were respectively included in China's Top 10 New Archaeological Discoveries of 2019 and 2020.
However, these regions were mostly Tubo "frontier "areas. In the core area, there was a lack of key breakthroughs until recent findings, including the Damshung cemetery.
Qi Dongfang, an archaeology professor at Peking University, said: "There is a wealth of ancient Tubo documentation, which has been reviewed time and again by generations of scholars. But most of it concerns military and political history, while the cultural elements are still largely unclear."
In 2019, a total of 30 institutions and collectors worldwide joined hands to present an exhibition, Cultural Exchange Along the Silk Road: Masterpieces of the Tubo Period (7th-9th Century), in Dunhuang, Gansu province. Despite the event being designed to review the key role played by the Tibetan regime on the ancient Silk Road, Qi said that due to a lack of archaeological supporting evidence, controversy has arisen over whether many of the exhibits are from the Tubo period.
"If we can provide a bigger picture for the recent archaeological findings, we will have a much better idea of what Tubo culture really looked like," he said.
Huo Wei, a professor and specialist on Tibet at Sichuan University, said some clues to burial rituals at the Damshung cemetery had already been indicated at the sites in Qinghai.
"It's very important to connect these sites. The Tubo social structure can also be traced through the tombs," he said.
Huo expects more follow-up excavations to trigger a new round of comprehensive studies on Tibet.
He said there was little archaeological research in Tibet before the 1950s, apart from occasional "investigations" by European explorers, mainly in the late 19th and the early 20th centuries, adding that the West used to have a dominant say over Tibetan studies as a result.
"But the situation has since changed, because our own archaeologists have unearthed rewarding discoveries in the region, mainly since the 1980s," he said.
"Archaeological material and scientific evidence can now offer even more convincing proof of how different ethnic groups in China formed a shared community."
The new findings may have greater significance if viewed from a global perspective.
Silk Roads: the Routes Network of Chang'an-Tianshan Corridor, which spread across northwest China into Central Asia, was inscribed as a UNESCO World Heritage site in 2014. Studies and preparations to bid for World Heritage status later began in other areas of the transportation network.
At its peak, Tubo also ruled the Hexi Corridor in present-day Gansu province, a key artery running west from the Central China Plain, as well as being part of Central and South Asia. As a result, Tubo was located at the heart of a vast trade network.
In 2018, the National Cultural Heritage Administration launched a comprehensive project to research the Silk Road stretching into South Asia. The Tang-Tubo Ancient Road forms a crucial part of this work.
Shargan Wangdue, who led the project's archaeological investigation, said: "It's a Silk Road on the plateau, but this plateau is not its final destination. The communication network expanded much farther beyond the (Himalaya) mountains, along river valleys leading to the outside."
Decoding unwritten past
Although Tubo stood out as being exceptional in the early documented history of the region, Huo, the Sichuan University professor, stressed that a much longer "unwritten" past existed before these flourishing times.
"Archaeology is writing that part of history that no one has done before," he said.
In the past two years, rich archaeological discoveries have been made across Tibet, shedding light on its prehistoric period and much earlier links with the rest of China than originally thought.
In Ngari prefecture, in the west of the autonomous region, more than 5,000 relics, including numerous stone items, were unearthed in 2020 at the Jerak site, dating back 8,000 to 10,000 years and indicating two separate periods of human settlement. No archaeological evidence from this time had previously been found in the hinterland of the Qinghai-Tibet Plateau.
Despite the discovered stone tools being small-some broken pieces are only a few millimeters thick-for archaeologists such as Gao Xing they are key indicators of human migration.
Gao, a researcher at the Institute of Vertebrate Paleontology and Paleoanthropology affiliated to the Chinese Academy of Sciences, said: "They show close links with findings in North China, and may offer crucial information for studying the origins of Tibetan people. They echo some findings from genetic studies."
The evolving styles of the stone tools also show how residents on the plateau adapted to the environment in this high-altitude area in ancient times, Gao said.
Meanwhile, Shargan Wangdue and other archaeologists excavated 10 tombs in Tibet in 2020 and last year, along with the 4,000-year-old Mabutso Lake site in Khangmar county, Shigatse, to the south of Lhasa.
Some pottery from the tombs is made in the same style as counterparts found in the Hengduan Mountains in Sichuan and Yunnan provinces, nearly 2,000 kilometers away.
At the Gadpaserul site in Ngari, a graveyard dating back 3,000 to 3,600 years is evidence of an economy reliant on herding and hunting and also indicates close connections with similar graves in Xinjiang Uygur autonomous region.
Song Xinchao, deputy director of the National Cultural Heritage Administration, said during the online conference: "Now we need to view archaeological findings in Tibet from a much wider perspective and evaluate them in comprehensive studies involving other regions. This is not only about neighboring provinces, but goes beyond national borders. The significance of this should be viewed in the context of the whole of Asia."
He added that archaeology can greatly contribute to interdisciplinary research on the Qinghai-Tibet Plateau, together with environmental sciences, geology and anthropology, among others.
Lasting effort
Countless relics await discovery, but locating them is far from easy. The weather and the plateau's rugged landscape can be harsh on archaeologists, while lack of personnel is another significant challenge.
Shargan Wangdue said there are only 10 full-time archaeologists and nine cultural relic conservators at his institute. As Tibet has a land area of about 1.2 million square km, everyone has a full working schedule.
The archaeologists' basic research tools and other equipment are no different to those used by teams elsewhere in China, but the natural conditions make their work tougher.
"When we're doing research in the wild, we sometimes get up at 4:30 am to drive from one heritage site to the next, because of the distance involved," Shargan Wangdue said. "If we're lucky, there will be a place where we can eat on the way, but often we have all our meals in the car."
For the archaeologists working in Tibet, car repair skills are also useful.
Shargan Wangdue said: "All the difficulties are just routine for archaeologists, as we have such an important job. It's also great to see more and more national-level archaeological teams joining us."
He and his colleagues are not working alone. National-level institutions, including the Chinese Academy of Sciences, the Institute of Archaeology at the Chinese Academy of Social Sciences, and the National Centre for Archaeology, have drafted a long list of archaeological programs involving Tibet.
Some provincial-level institutions with leading expertise have also lent a helping hand. For example, the Shaanxi Academy of Archaeology has been devoted to Tibetan studies since 1985.
According to the National Cultural Heritage Administration, 42 archaeological research or excavation programs involving institutes from the rest of the country were launched in Tibet during the 13th Five-Year Plan (2016-20). A total of 34.4 million yuan ($5.4 million) was spent by these institutes to support their research.
All the major excavations in the past two years were jointly carried out by the Cultural Relics Conservation Institute of Tibet Autonomous Region and leading universities and research institutes nationwide.
In 2020, a new long-term national-level guideline for archaeology in Tibet from 2021 to 2035 was released by the National Cultural Heritage Administration, calling for better-equipped hi-tech laboratories and warehouses for relics unearthed in the region.
More important, an increased number of local archaeologists will be nurtured, benefiting from promising plans for the future.
According to the 14th Five-Year Plan (2021-25), released by the State Council in November, the number of archaeologists in China is expected to rise from about 6,000 at the end of 2020 to 10,000 by 2025.
Shargan Wangdue sees this as an opportunity to recruit more new blood to his team.
"At the moment, when a major project is announced, we may have to call in all 10 archaeologists in our team, and we barely have time to assign each one to a specific field. But if more people arrive, we can use their expertise for different historical periods," he said.
Black-and-white stone pieces from the traditional board game Go, or weiqi, were discovered at the Damshung cemetery site in Tibet autonomous region. CHINA DAILY


A pair of golden ear picks found at the site. CHINA DAILY


A pair of golden ear picks found at the site. CHINA DAILY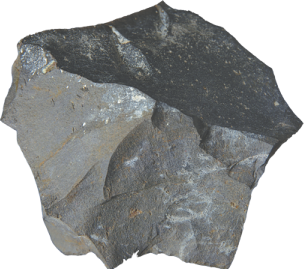 A stone tool unearthed at the Jerak site in Ngari, Tibet. CHINA DAILY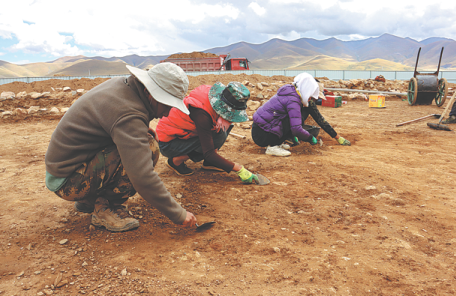 Tashi Tsering (left), an archaeologist at the Cultural Relics Conservation Institute of Tibet Autonomous Region, and his colleagues work at the Damshung site. CHINA DAILY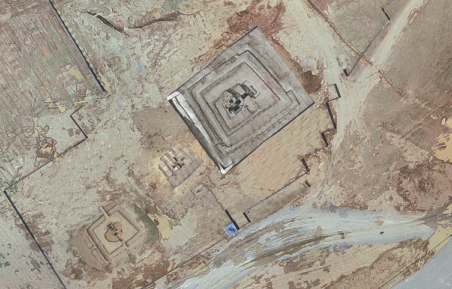 An aerial view of the cemetery. CHINA DAILY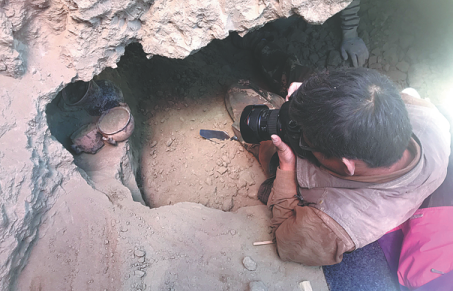 Shargan Wangdue, deputy director of the cultural relics conservation institute, photographs items unearthed at the Gadpaserul site in Ngari. CHINA DAILY