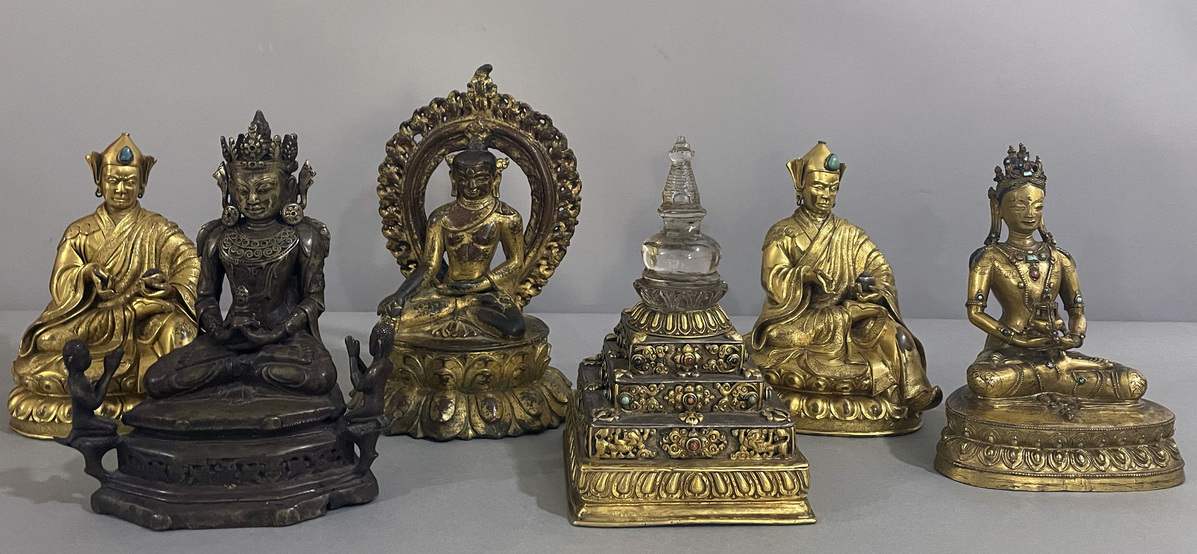 Some of the 12 cultural items retrieved from overseas. [File photo/Xinhua]

Twelve Chinese artworks dating from the Ming Dynasty (1368-1644) to the early 20th century that were repatriated from the United States in July were transferred to the custody of Lhasa's Tibet Museum in Beijing on Sunday.
The National Cultural Heritage Administration said it was informed in March that a dozen Chinese artworks, including six gilt copper Buddhist statues, had been seized by the Manhattan District Attorney's Office in New York.
A follow-up investigation failed to find legal export documents for the art pieces and they were identified as lost Chinese cultural relics.
The repatriation process started in April, and the artifacts were transferred to the Consulate General of China in New York. They arrived in Beijing in July.
Appraisal by an expert panel organized by the national administration concluded that the artifacts were mostly from Southwest China and of high historic, artistic and scientific value. Six were rated as "national-level precious cultural relics".
A statue of Amitayus Buddha, believed to be from the 17th century, is a highlight among the repatriated works.
It shows a mixture of typical elements from Tibetan art and that from the rest of China. Its hexagonal base is rare, and is more often portrayed in frescos or thangka, a traditional form of Tibetan painting.
The Tibet Museum in Lhasa is the largest comprehensive museum in the Tibet autonomous region. It will open a new gallery soon.
To protect cultural relics in the autonomous region and display their values, the National Cultural Heritage Administration decided to transfer the repatriated relics to the Tibet Museum and exhibit them in the new gallery.
China and the US have both signed the UNESCO convention preventing the illicit import and export of cultural property.
In addition, to prevent the loss of old Chinese artworks to the US, the two countries signed an agreement in 2009 to restrict imports of statues over 250 years old.
The US previously returned lost Chinese relics in 2011, 2015 and 2019.
Transferring the relics to the Tibet Museum is part of lasting, comprehensive and nationwide efforts to support cultural heritage-related work in the autonomous region.
Seventeen provinces and municipalities have joined the program to offer aid in cultural heritage conservation, the construction of museums, archaeology and training, among other fields.
Since 2016, about 2.17 billion yuan ($336 million) has been allocated from central and local governments for such projects.