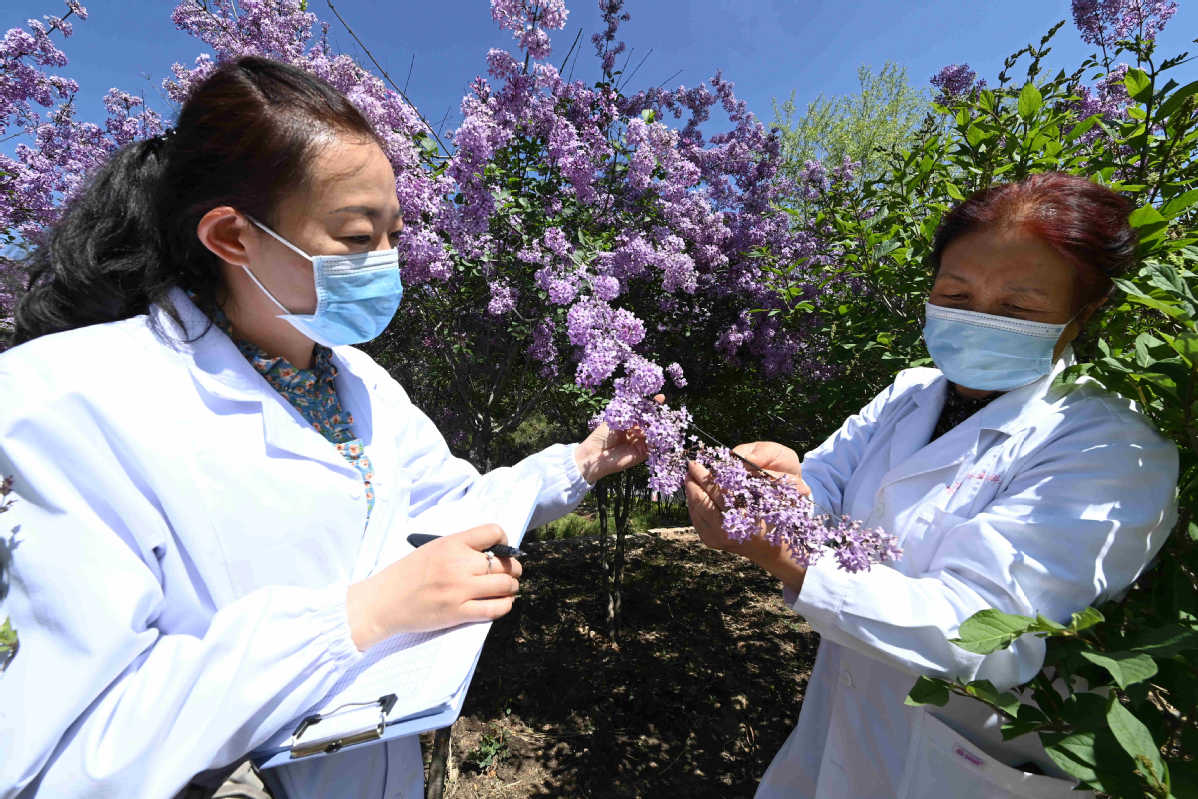 Zhang Jinmei (right), head of the Xining forestry science research center, checks the growth of Chinese lilacs with her co-worker in May in Xining, Qinghai province. FAN PEISHEN/XINHUA

More than three decades of efforts have seen Zhang Jinmei bring new life to once relatively barren land in Northwest China's Qinghai province.
Zhang, 57, who is head of the Xining forestry science research center and has been elected as a delegate to the 20th National Congress of the Communist Party of China, said that a lasting memory from her childhood in the province's Xunhua Salar autonomous county was that it was difficult to find either a tree or a flower.
And when trees could be found, it was clear that the inhospitable environment of the province — known for its cold weather, little rainfall, strong ultraviolet radiation and evaporation — had clearly stunted their growth.
As a young girl, what struck Zhang was that it was clearly 'not easy for these trees to grow so big', and since then it has been her life's mission to literally help those trees grow bigger and bring more and varied vegetation to the province.
In 1985, she made her way to a local agriculture and forestry school to study agronomy.
With a determination to give the land a face-lift, she immersed herself in plant-related books in the school library and practiced farming in the field with her teacher.
After spending four years at an agriculture technology promotion center in Xining following her graduation, Zhang, who was already noted for her great enthusiasm and expertise in working with plants, was sent to the city's Xishan Forestry Center where she was engaged in selecting and breeding poplar species and afforesting.
However, she came across setbacks at the beginning of her work when growing seedlings. When these were ready for transplantation from the nursery, more than 60 percent of them were eaten by pests.
Since pests had to be picked up by hand at the time, Zhang led her coworkers in turning over the soil layer and picking up the pests from the soil one by one.
"On average, nearly 400 insects can be recovered from one mu (666.7 square meters) of land, and it took three years to control the pests," she said.
She then explored various breeding methods to find the best one for local conditions, while introducing seedlings from outside the province to test their adaptability to the plateau climate.
As a result of gaining such rich experience, Zhang started work at the Xining forestry science research center in 2013, focusing on new forestry technology research and development.
When the lilac blossom season comes, Zhang and her colleagues go to nearby national nature reserves and those in neighboring Gansu province to look for wild lilacs, which she has managed to adapt to make them suitable for the plateau environment.
Thanks to the efforts of Zhang and her team of forestry experts, Xining forestry science research center has built the country's only lilac germplasm resource bank, which preserves more than 100 species of lilacs, including 69 that can be propagated.
As a result of this work, more than 100 plant and flower varieties have been introduced to Qinghai.
In addition, the survival rate for newly planted trees in this plateau environment now exceeds 85 percent, while tens of millions of seedlings have been raised, and the breeding technology of seedlings developed by Zhang and her team has been applied across the Qinghai-Tibet Plateau.
Zhang spends more than 200 days annually working in the wilderness, either planting trees in the mountains or breeding seedlings at nurseries.
She hikes more than 10 kilometers a day and has been known to wear out a pair of shoes in three months.
Now, masses of white and purple lilacs adorn the provincial capital Xining in spring, while the forest coverage rate of the mountains to the south and north of the city has jumped from just 7.2 percent to 79 percent.
The process of growing a tree has turned out to be a source of constant surprise to Zhang, from a seed to a sapling that continues to thrive and become a towering tree.
"Planting a tree is like raising a baby. No matter what the foundation or the environment is, as long as you pay attention to it, study it, and care for it, rows of saplings can also grow into large forests," she said.
Zhu Lilin, a senior official with the Xining Park management service center, said: "With her perseverance, Zhang Jinmei has made extraordinary achievements."
"Her diligent research and tenacity, and how she faces up to difficulties are an inspiration to all forestry workers," Zhu said.