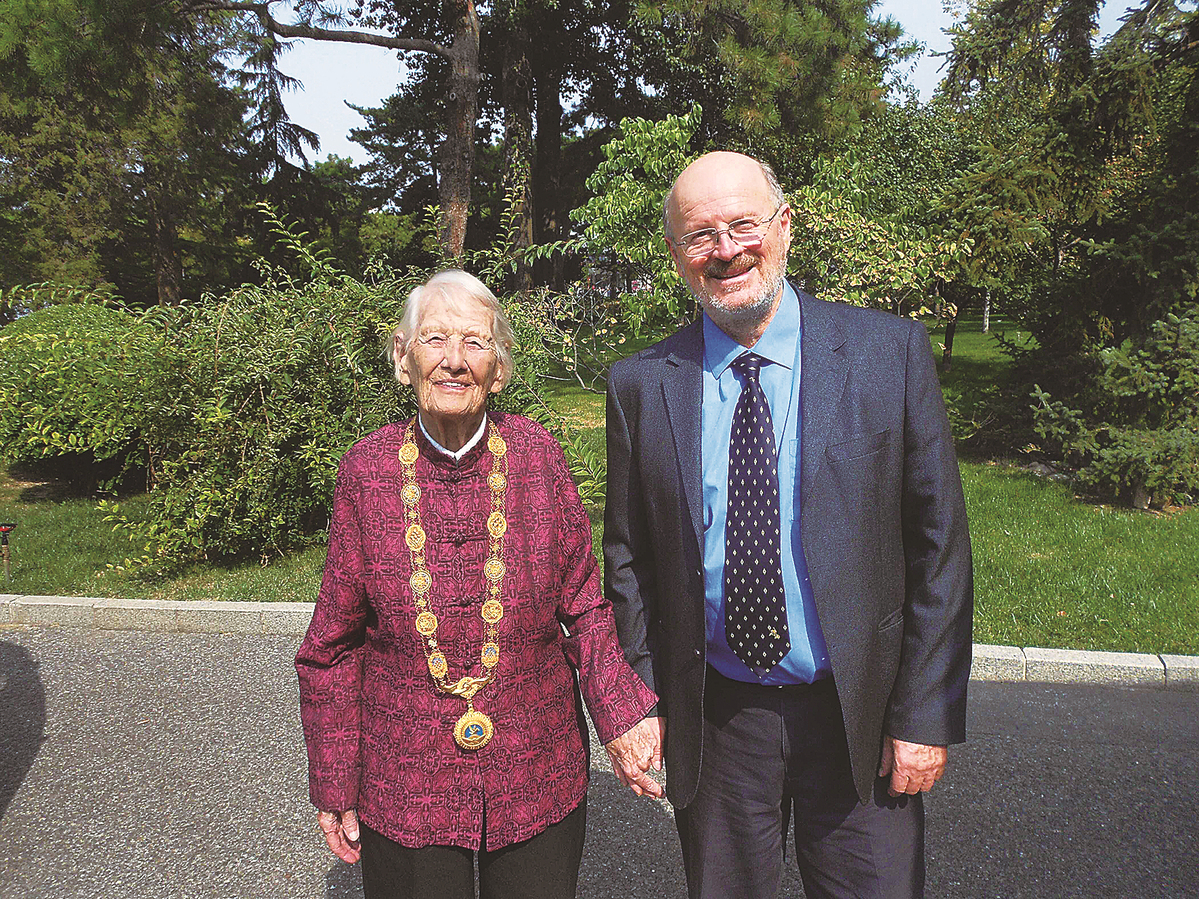 Isabel Crook and her son Carl are pictured on Sept 29, 2019, after she received the Friendship Medal in Beijing. [Photo/China Daily]

Author Tan Kai explores the anthropologist and educationist's work
Tibetan woman Yangzom, 94, who comes from a rural area of Sichuan province, remembers learning the nursery rhyme Row, Row, Row Your Boat in English more than 80 years ago.
She mastered the words when Canadian expatriate Isabel Crook carried out an anthropological field study of Tibetan households in Yangzom's home village of Bashinao, Aba Tibet and Qiang autonomous prefecture, Sichuan province, in 1939.
Details of Crook, who was born in 1915, visiting Tibetan and Qiang villages are recorded in Love China All My Life: Isabel Crook's Stories, a biography recently published by author Tan Kai.
The book includes numerous anecdotes about Crook-a kindhearted, determined figure who has devoted most of her life to ethnological studies of China, the nation's rural development and teaching English.
In 2019, Crook received the Friendship Medal, China's top honor for foreigners, for her contribution to the nation's foreign language education.
In addition to Crook's achievements, the book takes a close look at her hard work and persistence.
More important, it provides the backdrop for readers to understand why she and her husband chose to stay in China and strived to improve conditions for its people.
During her time in Bashinao, Crook volunteered to teach English at a local primary school that had only eight students and one teacher. Lacking textbooks, paper and pens, she started by using simple words of greeting.
She taught by using games, and also let the pupils make up small plays to practice their spoken English, which not only attracted audiences but also more children to attend the school.
Crook also learned skills from the villagers, but when she saw women spinning wool into yarn by hand, she decided to return to Chengdu, capital of Sichuan province, to buy them a wooden spinning wheel, which they had never seen or heard of before.
It took Crook at least seven days to travel to Bashinao from her base in Chengdu. Most of the time, she either walked or rode a horse. The route was full of hardships and danger. At one point, Crook and her companions had to traverse a cliff face for several kilometers as the Minjiang River flowed tempestuously below.
They also relied on a zipline to cross the river. In one photograph in the book, Crook is captured clinging to the line, laughing with great excitement as she carries the spinning wheel.
Yangzom's father Sonam Rinchen guided Crook to the village, where she lived with the family.
Sonam Rinchen used to act as guide for renowned scholars from home and abroad, including Li Anzhai (1900-85) and Zhuang Xueben (1909-84), along with David Crockett Graham (1884-1962) and Thomas Torrance (1871-1959), who came from the United States and the United Kingdom respectively.
When Crook arrived in Bashinao, Yangzom's aunt held a welcoming party, which was celebrated with plenty of highland barley wine. Villagers sang and performed Guozhuang-singing and dancing in a circle. Crook enthusiastically joined in, unwittingly stepping on someone's foot.
When she was 104, Crook recounted this unforgettable scene to younger members of Yangzom's family.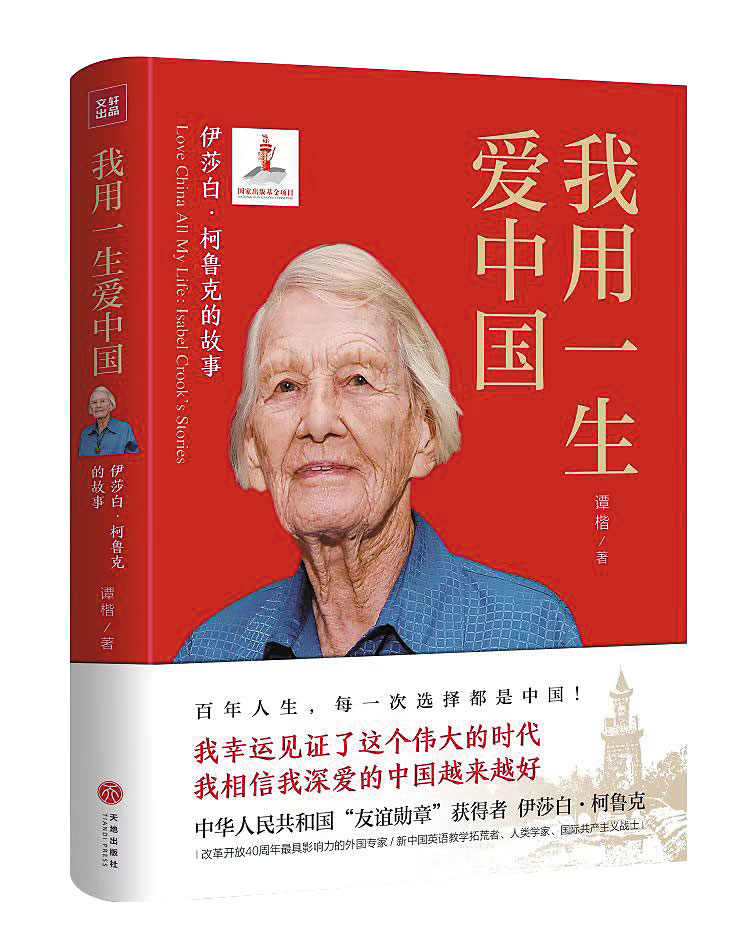 The biography Love China All My Life: Isabel Crook's Stories. [Photo/China Daily]

Rare treat
In an interview when she turned 100, Crook recalled the mouthwatering stewed meat with soybeans cooked by Yangzom's aunt-a rare treat compared with the villagers' daily fare.
Crook was worried when the devastating magnitude-8 earthquake struck Wenchuan in 2008. Two years later in summer, the then-95-year-old returned to Bashinao with her sons and a grandson. They managed to find Yangzom, and the two families resumed their close ties.
In 2017, Yangzom, who was entering her 90s, visited Crook in Beijing, where they sang the nursery rhyme together again.
It took Tan, 79, former editor-in-chief of the Chengdu magazine Science Fiction World, three years to complete the biography. He retraced Crook's steps in a number of rural areas where she did research and taught. Tan also visited Crook's hometown in Canada and interviewed a group of the anthropologist's acquaintances.
Tan said, "It felt as though I was rereading China's modern and contemporary history, because Crook has experienced almost all the significant events."
Crook was born and brought up in Chengdu before going to the University of Toronto for her bachelor's and master's degrees, majoring in child psychology and minoring in social anthropology.
Returning to China after graduation, she traveled to Tibetan, Qiang and Yi villages in Sichuan for field studies. She also went to Xinglongchang, part of present-day Daxing town in the Bishan district of Chongqing, for research and rural construction experiments.
In Chengdu, she met her future husband, David Crook (1910-2000), a committed communist from the UK and friend of the Canadian physician Henry Norman Bethune (1890-1939).
He proposed to her on the Luding Bridge, which spans the Dadu River-a revolutionary site he had always wanted to visit after reading about in Edgar Snow's book Red Star Over China. He proposed shortly before the couple went to London, where they married and joined the war against Nazi Germany.
After World War II, Isabel Crook attended the London School of Economics and Political Science for a doctoral program tutored by renowned anthropologist Raymond Firth (1901-2002), but her studies were later suspended.
In 1947, the couple traveled to Shilidian village, Hebei province, where they observed and joined the land reform program and wrote anthropological studies.
The following year, the couple decided to stay in China and teach at what is now Beijing Foreign Studies University, at a time when the nation was in urgent need of English-language professionals.
Despite only having limited resources, they took part in pioneering work on teaching and helped develop a college English-language curriculum and compile learning materials.
On Oct 1, 1949, the Crooks were on the viewing stand in Tian'anmen Square for the founding ceremony of the People's Republic of China, but Isabel had to return home for a short period to feed their eldest son, who was less than 2 months old.
She was only able to revive her anthropological ambitions when she retired from Beijing Foreign Studies University in 1981.
In August that year, she revisited Xinglongchang with her colleague Yu Xiji. In 2013, she summarized and published a Chinese-language version of their research report, Xinglong Chang: Field Notes of a Village Called Prosperity (1940-1942).

1. Isabel Crook, seen with her husband, has lived in an apartment at Beijing Foreign Studies University since the 1950s. 2. Isabel Crook stays with villager Guo Jinrong in Shilidian, Hebei, in 1948. 3. The Crooks and colleague William Hinton (left) prepare to teach at the Central Foreign Affairs School in 1948. [Photo/China Daily]

Valuable texts
Isabel Crook also worked with US historian Christina Gilmartin (1946-2012), and in 2013, she published the book Prosperity's Predicament: Identity, Reform, and Resistance in Rural Wartime China (1940-1941). A Chinese-language version of the work was published in 2018.
German sociologist Karl Mannheim (1893-1947) included the English-language version of the first notes on Xinglongchang that Crook wrote with Yu in a series of books called The International Library of Sociology and Social Reconstruction, together with works by sociologists Fei Xiaotong (1910-2005), Martin C. Yang (1904-88) and Lin Yaohua (1910-2000).
The notes on Xinglongchang were completed during the War of Resistance Against Japanese Aggression (1931-45).
Works by the Crooks provided valuable texts to better understand the pre-modern-day Chinese countryside and changes in villages introduced by the Communist Party of China.
On May 13, the writer He Xiangyang said during an online seminar to discuss Isabel Crook's life and the new biography that the book reveals her contribution as an anthropologist, and that her academic life is easily overlooked.
However, He said it is sad that Crook, now 107, is unable to summarize the material she collected more than 80 years ago and write her research report on Bashinao and other ethnic villages.
Isabel Crook's son Michael said during the seminar that the biography includes some of his mother's stories from childhood that even the family was unaware of. He added that as a large number of foreigners have contributed to China, it is worthwhile documenting their experiences.
Author Tan thinks that Isabel Crook's concern about and sincere love for the Chinese people, and the public's kindness and devotion to her family, made her and her husband decide to stay in China.
Tan graduated from a primary school named after US education reformer John Dewey (1859-1952).Isabel Crook's parents took part in the school's founding in 1915, and her mother was the school's principal for three years. Tan lived near the couple's old residence, but he only got to know Isabel Crook when she was 100.
He said she has lived in an apartment at Beijing Foreign Studies University for 67 years, sleeping in a small bed from which she fell and broke a bone when she was 103.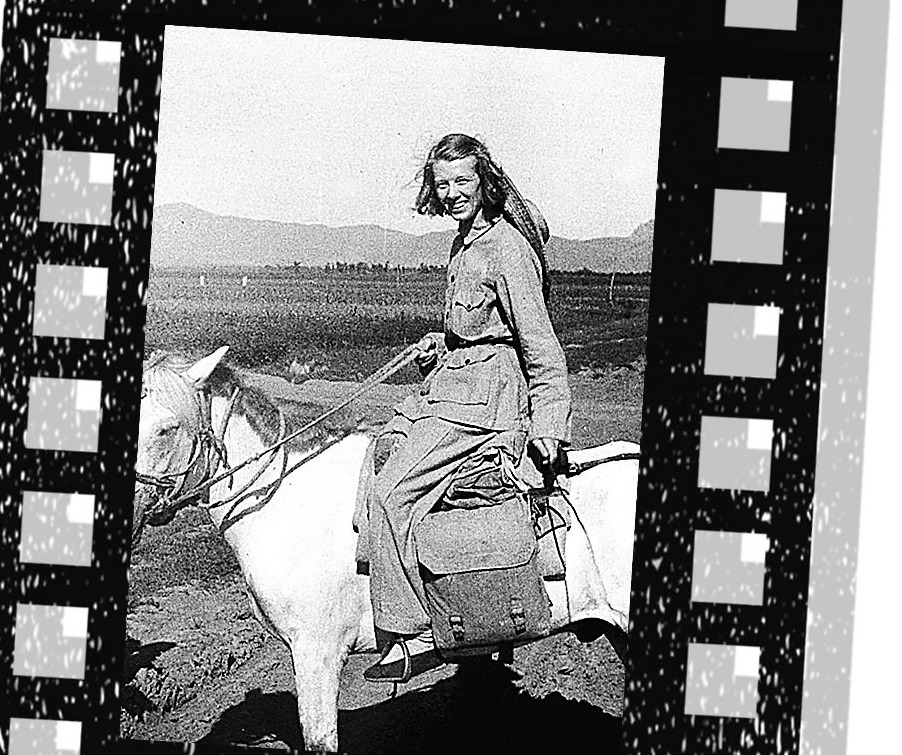 Crook is pictured in Nanhaishan village, Hebei province, in 1948, where she worked at the Central Foreign Affairs School, the predecessor of Beijing Foreign Studies University. [Photo/China Daily]

Since childhood, Crook had witnessed the Chinese people's poverty and suffering. In particular, she focused on women's living conditions and educational opportunities for underprivileged students.
In their home countries, the Crooks calmly faced misunderstandings harbored by their relatives, friends and audiences, turning down good career offers from prestigious universities.
Even though David Crook was wrongly imprisoned for more than five years and his wife's freedom of movement was restricted for three years during the "cultural revolution" (1966-76), the couple didn't leave China and continued their efforts to support the nation's development.
During that difficult time, their babysitter Liu Jinfeng insisted on taking care of the couple's three sons, despite facing a number of difficulties. Liu lived with the family for more than 20 years.
In 2019, when she was 104, Crook returned to Chengdu with her three sons for a three-day visit. She enjoyed an iced lollipop and a beer, later sampling twice-cooked pork with douchi (fermented soybeans).
She and her family revisited a number of places that brought back childhood and teenage memories, including neighboring Bailu town, where the family used to spend summer.
On Sept 29, 2019, when his mother received the Friendship Medal from President Xi Jinping, Michael Crook said his parent felt a degree of sadness that she was the only one still living among her generation of foreign friends that have made a contribution to China's revolution and nation-building.
Shen Zaiwang contributed to this story.