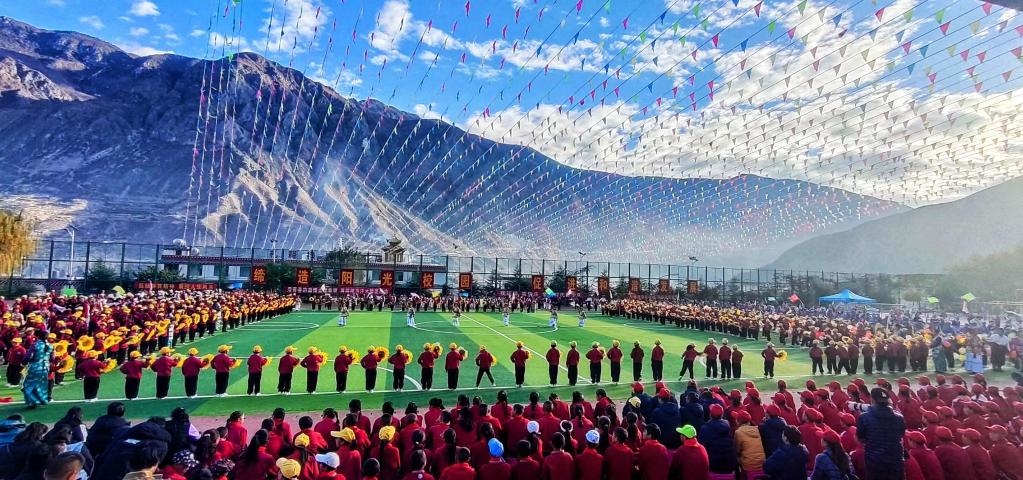 A sports meeting is held amid a breathtaking mountainous backdrop at No. 2 Primary School in Deqin County, Yunnan Province. (Xinhua/Yue Ranran)
China is easing excessive homework and tutoring for students in compulsory education, and placing greater importance on physical health and fitness.
by sportswriters Yao Youming, Yue Ranran
BEIJING, May 31 (Xinhua)-- "Left, right, left, a sound mind, a sound body." Every morning, nearly 800 pupils from No. 2 Primary School in Deqin County, Yunnan Province, run alongside the Jinsha River.
Tibetans make up 99 percent of the students in the school. With the exception of summer and winter vacations, they live and study at school all year round. Beyond the required PE classes, the school encourages all pupils to participate in football and basketball games.
A Dui, the school's principal, says he sought to leave an imprint on his students' lives by hosting various sporting activities.
"A healthy physique will be a big blessing in each student's life," remarked A Dui.
During the COVID-19 pandemic, online fitness became popular among children in China's big cities.
"Participants in online workouts do not compete against their peers. Instead, they try to meet the requirements for each exercise. They can bounce a ball, jump rope, or perform push-ups. If they fulfill the assignments, they will be rewarded," said Sun Qilin, head of Shanghai Jiao Tong University's Sports Research Institute.
"Online sports activities taught youngsters that, even when they are at home, they should continue to exercise," Sun added.
"Sports may help a child become a good citizen," said Wang Dengfeng, a senior Ministry of Education official.
GOOD SCHOOL PE CLASS
On April 21, China's Ministry of Education announced an updated list of compulsory physical education and health curriculum requirements, with the aim of improving the sporting ability of the country's children.
Students can choose their ideal PE classes from a variety of events, including football, basketball, track and field, winter sports, gymnastics and traditional Chinese sports, among others.
Furthermore, according to the new edition criteria, PE teachers should raise children's heart rates to 140-160 beats per minute.
"In PE class, the children are expected to sweat. They can't be powerful if their heart rates don't surpass 140 beats per minute," said Wang Zongping, Dean of Yunnan University's Physical Education College.
China is easing the burden of excessive homework and off-campus tutoring for students undergoing compulsory education. Wang told Xinhua that letting the students have good school PE classes would contribute to the "double reduction" policy.
A HEALTHY DIET
Fewer children have reasonable diets in China. With the country's economic development and the improvement in people's living standards, more salt, fat and sugar have been introduced into children's diets.
This phenomenon has made one-fifth of students in compulsory education overweight.
Dietary Guidelines for Chinese children, published by the Chinese Nutrition Society in 2022, contains many suggestions, including having a good breakfast, having clean and nutrition snacks, drinking milk and enough water, and doing medium- or high-intensity physical exercises every day.
In Wang's opinion, change is happening. In the holidays, more parents would like to take their children to taste fruits and vegetables in the countryside. In supermarkets, health foods with low sugar and salt content are marked and are becoming increasingly popular.
"Children should have healthy diets and do more physical exercise, following the conservation of energy," Wang added.