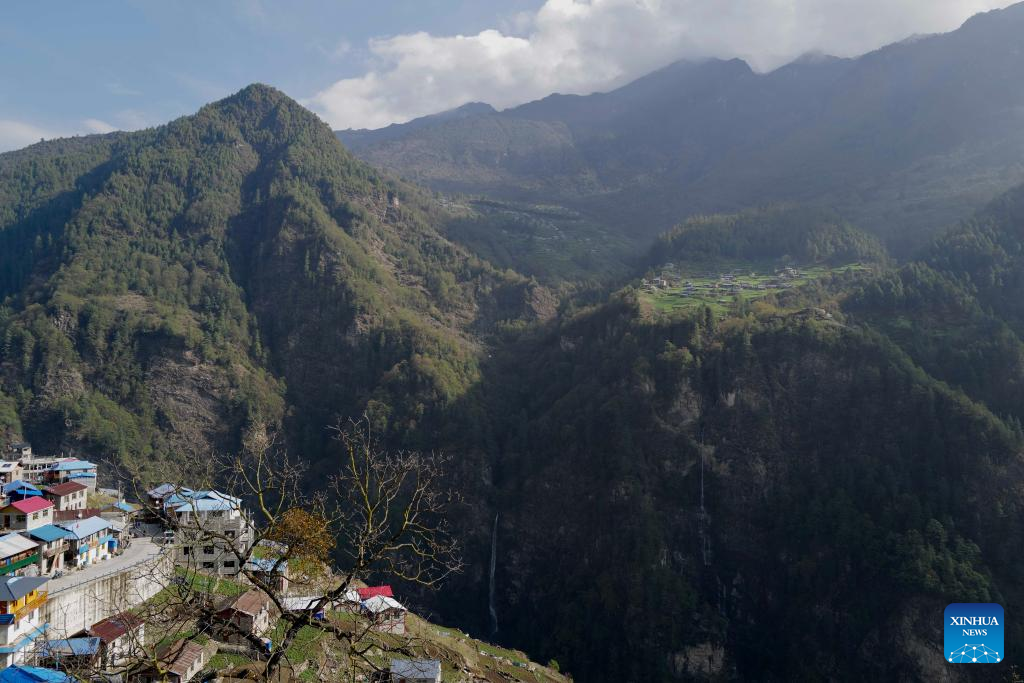 Photo taken on April 13, 2022 shows Zhentang Township besieged by primitive forests at the foot of Qomolangma deep in the Himalayas, in Dinggye County of Xigaze, southwest China's Tibet Autonomous Region. (Xinhua/Liu Ying)
by Xinhua writers Luo Bo, Lyu Qiuping, Fan Fan and Liu Ying
LHASA, May 11 (Xinhua) -- Although her granddaughter is only seven months old, Namkha, 57, likes dancing in front of her, showing her some moves of the traditional Sherpa dance.
"My oldest student is 40-plus years old, and the youngest is my granddaughter," said the Sherpa with a smile, expecting that her granddaughter will pass down the traditional dance someday just like herself.
Living in Zhentang Township, Dinggye County, southwest China's Tibet Autonomous Region, Namkha is an inheritor of the Zhentang Sherpa dance, a national intangible cultural heritage.
Besieged by primitive forests at the foot of Qomolangma deep in the Himalayas, the township with an average altitude of 2,000 meters is home to more than 2,600 Sherpa people.
Standing together in a circle or semi-circle, dancers, mostly women, sing and dance with interchanged rhythms. They wear traditional Sherpa costumes while dancing, including a silver waist belt, a cap decorated with flowers and peacock feathers, and accessories like gold earrings and a necklace consisting of silver rings.
Born into a farmers' family, Namkha likes dancing since childhood. She started to learn the Sherpa dance from senior villagers at the age of 15, becoming the youngest among the dancers. In her early 20s, Namkha often danced till midnight after a day's toil in the field.
Her parents said dancing was a waste of time and affected farmwork.
"After dancing late at night, I dared not return home for fear of waking up my parents and being scolded. So I once slept in the cowshed," said Namkha. When she was 25, she became the leading dancer and has performed at wedding ceremonies, festivals and galas of various levels in Tibet.
Namkha became a regional political advisor and headed to Lhasa to attend the regional annual two sessions for the first time in early 2007. She trekked in snow for two days to arrive at the nearest concrete road before a car picked her up to Lhasa.
She then proposed developing road facilities for her hometown at the two sessions. Other proposals she submitted during her five-year term were about forest protection, as well as the Sherpa cultural heritage preservation.
Now, a concrete road has ended the isolation of the township, enabling Namkha and other Sherpas to reach the outside world more easily.
In 2011, Namkha joined a team to visit Qingdao, a port city in east China's Shandong Province, to attend an exchange activity for intangible cultural heritage inheritance. It was the first time she took a plane.
On the flight, many passengers were curious about Namkha's Sherpa costume and kept asking to take photos with her.
"I was so nervous and shy that I forgot to fasten my seat belt," Namkha said with a laugh, adding that a flight attendant later came to help fasten the belt.
In Qingdao, she saw bullet trains, high-rise buildings and various kinds of urban facilities. It was then that she realized the importance of education.
"I was the only one illiterate in the activity. Young people must go to school to keep pace with society," she said.
Lhawang, Namkha's husband, likes showing his wife's dancing videos to others on his mobile phone.
"When she goes out dancing, I'll take care of our granddaughter at home," said Lhawang, 53.
Lhawang is a construction worker and, during his spare time, patrols the nearby forests, now part of the Qomolangma National Nature Reserve.
Their son, Sidar, shoots photos and videos for a local multimedia center in the county seat. Although he is not interested in dancing, he supports his mother to pass on the Sherpa cultural heritage.
"The traditional Zhentang Sherpa dance is important. I'd like to make some contribution to its preservation, like shooting some documentaries," he said.
With the support of the government, each village of the township has established a performance group with an average of 16 members. The government also poured money into building performance centers where they can dance.
Namkha now has 10 students -- three in their 40s, four in their 30s and three in their 20s. She plans to teach more.
"More young people should join the efforts to pass the dance down to the future generation," she said.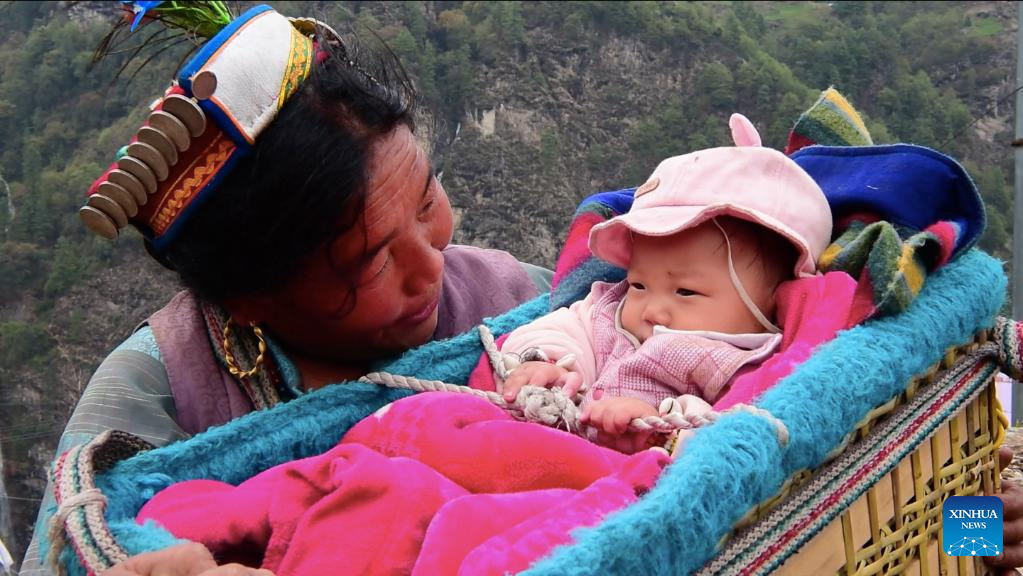 Namkha (L) takes care of her granddaughter while working in the field in Zhentang Township, Dinggye County of Xigaze, southwest China's Tibet Autonomous Region, April 14, 2022. (Xinhua/Liu Ying)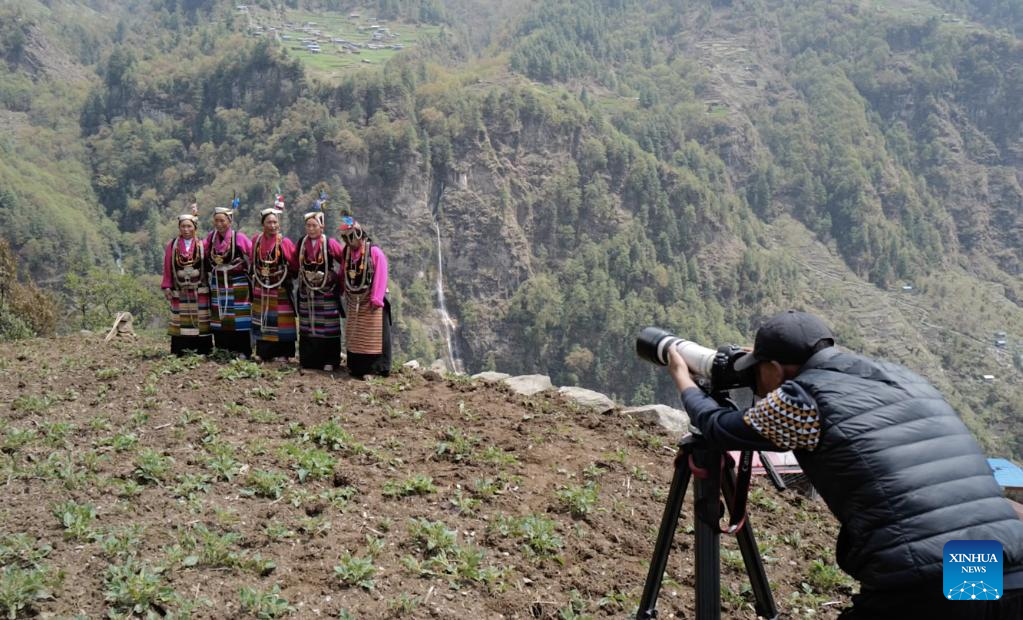 Sidar (1st R) shoots photos and videos for the traditional Zhentang Sherpa dancers in Zhentang Township, Dinggye County of Xigaze, southwest China's Tibet Autonomous Region, April 14, 2022. (Xinhua/Liu Ying)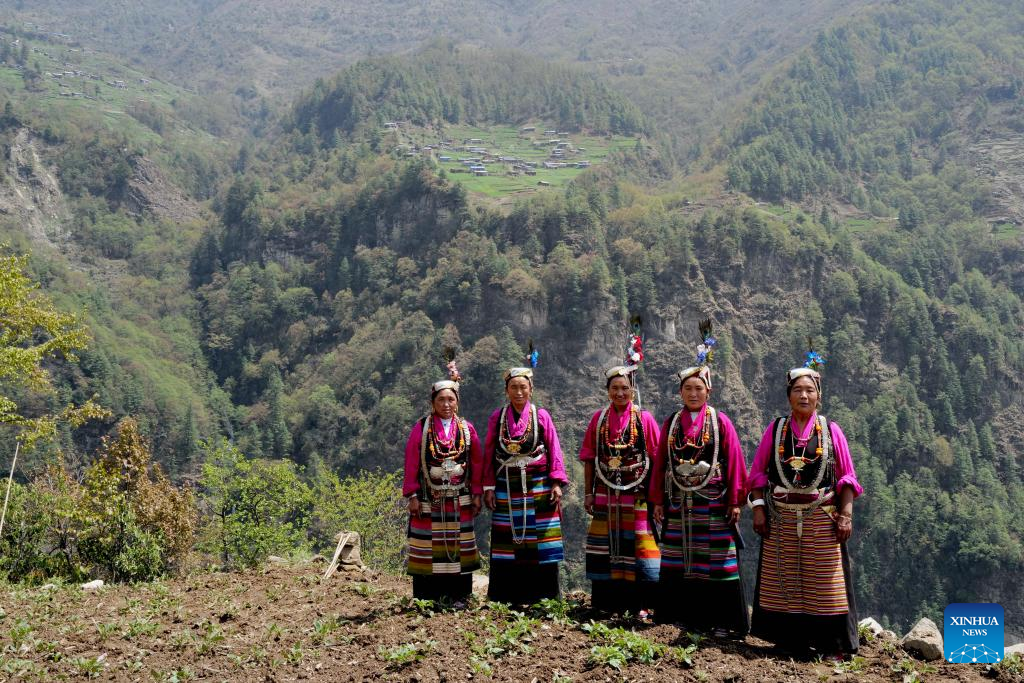 Namkha (1st R) and other women in traditional Sherpa costumes prepare to perform the traditional Zhentang Sherpa dance in Zhentang Township, Dinggye County of Xigaze, southwest China's Tibet Autonomous Region, April 14, 2022. (Xinhua/Liu Ying)