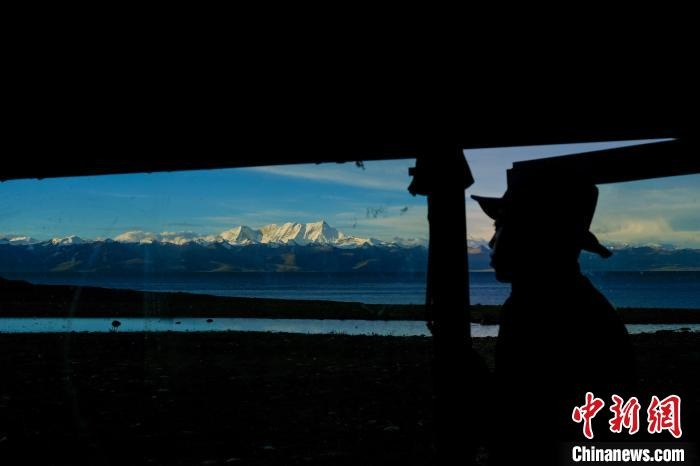 "We usually eat tsampa in the morning. After we drove the sheep to the nearby pasture, we simply eat some cakes for lunch, and in the evening we return to the lake to prepare the sheep pen and cook some lamb dumplings."
The 37-year-old Thubsang is a herder from Gaxong Village, Qinglong Township, Bangoin County, Nagchu, Tibet. In August, he and two other herders in the same village took care of the sheep in the village and grazing by the beautiful lake on the north shore of Namtso Lake. The village built a simple board house and set up a tent here to shelter them from the wind and rain. Thubsang said that a cooperative has been established in the village in recent years. The yak, sheep and pastures of each household are counted as shares to join the cooperative, and dividends and yak butter will be distributed at the end of the year.
"I have two daughters, one in elementary school in Lhasa and the other in middle school in Bangoin County." Surrounding the stove, Thubsang said that the family's annual net income is about 30,000 to 40,000 yuan (4,728 to 6,304 US dollars), and he has a B2 driver's license, which allow him to run a small transportation business when he does not graze.
When grazing, Thubsang carried a backpack, which contained cakes, tea, apples and umbrellas, a Tibetan shepherd whip and a bag filled with yak fluff on his waist. He twisted the yak hair into thin threads as he walked. "The lakeside scenery is good, and the sheep will go up to the mountain in a moment. There you can overlook Namtso Lake." Thupsang said, the life of herding is simple and fulfilling.