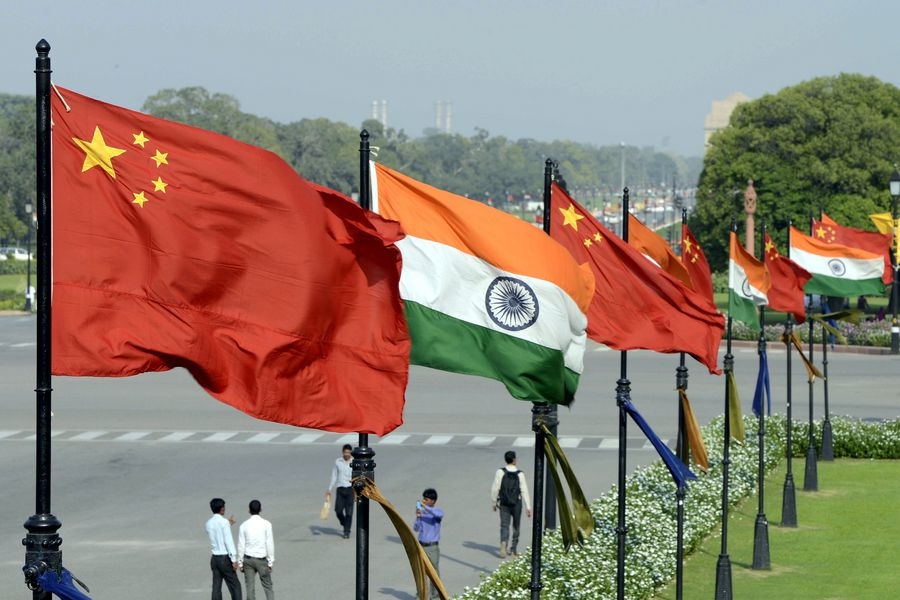 Indian and Chinese national flags flutter side by side at the Raisina hills in New Delhi, India, in this file photo. [Photo/Xinhua]
Senior Colonel Long Shaohua, a spokesman for the PLA Western Theater Command, said in a statement on Thursday afternoon that Chinese soldiers encountered an Indian national during a recent patrol in Metog county in the Tibet autonomous region.
The troops questioned the person in accordance with border control regulations and then sent them to a medical quarantine facility for humanitarian aid.
The spokesman said that the Indian military had used the border defense hotline to ask for assistance in ascertaining the person's whereabouts, and that both sides had discussed the matter in meetings.
"The Indian national has been transferred back to Indian territory. We urge the Indian side to strictly follow agreements, strengthen control and management of personnel, and take concrete measures to maintain order in border regions," the officer said, without giving further details.
Diplomatic and military representatives from China and India held the 14th round of China-India Corps Commander Level Meetings on the Chinese side of the Chushul-Moldo border on Jan 12.
The two sides agreed to "consolidate the outcomes of previous talks" and make efforts to maintain security and stability on the ground in the western sector.