Hua Sheng and Lu Sheng, a retired Tibetan couple who are both Catholic, have become trailblazers of grape growing and winemaking in their twilight years.
Lu Sheng learned grape planting and winemaking from her grandmother's sister, who was a Catholic nun.
Since they retired, the couple has moved to Lhasa from the village of Yakhadi, Naxi township, in the eastern part of the Tibet autonomous region.
Despite the fact that the region's capital, which is 3,600 meters above sea level, is considered unfit for growing grapes, Lu Sheng and Hua Sheng began an ambitious project in 2015, planting grapes in Tsalna, a town on the outskirts of Lhasa.
They received support from the local government, which is committed to developing business and the economy. The couple's project provides jobs for rural residents, and, as a result, the government has considered the project part of its poverty alleviation program.
"Lhasa is an ideal place for planting French grape varieties that are resistant to cold, drought and disease, and adaptable to high-altitude and open-air planting," Lu Sheng said.
"Thanks to the plateau's sunshine and organic planting, our grapes grow very well here in Lhasa. The grapes are a bit sour and sweet, with high anthocyanin content," he said. Anthocyanins are water-soluble pigments that accumulate in grape cells and contribute rich color to wine.
Lu Sheng and Hua Sheng have long experience in growing grapes, and they succeeded without many difficulties.
In 2018, they expanded their project, planting on nearly 6.67 hectares. In order to familiarize Tibetan farmers with grape planting and winemaking, they taught the skills to local villagers.
"With our entrepreneurship of grape planting in Lhasa, we have received constant support from the government and the local villagers. Without their help, it would not be as easy for us," she said.
Catholics in Tibet take English names. Hua Sheng is the Chinese rendering on his identity card for Huston, the name he has taken, and Lu Sheng is Chinese for Lucy.
Hua Sheng used to work at Tibet Tianlu, a road and bridge building company, and his wife was a postal worker.
In the mid-18th century, Tibet's Catholic nuns and French priests brought the religion as well as the know-how of grape growing and winemaking to what is known as the "roof of the world".
The grape and wine tradition has since been passed down from generation to generation. Because red wine in Christian theology represents the blood of Jesus, many Catholics in Tsakhalho yearn to make their own wine.
Unlike many Tibetans who participate in religious activities after retirement or enjoy hobbies, Hua Sheng and Lu Sheng instead chose to work on their new dream of planting a vineyard.
While most Tibetan villagers produce wine made with barley, people in the village of Tsakhalho make grape wine under the couple's guidance, which has become a local tradition.
The dominant religions in the Tibet autonomous region are Tibetan Buddhism and Bon, and a small population are Muslim or Catholic.
Under the guidance of French Catholic missionaries, a Catholic church was built in Yakhadi in 1865.It is a symbol of exchanges between the West and the East, as well as the Chinese and French and Tibetan and Western cultures.
Between 1865 and 1949, the village church's Catholics were led by 17 foreign priests. Now some 700 Catholic Tibetans live in the village, making it the largest Catholic community in the autonomous region.
More than 1.8 million yuan ($282,000) has been paid to local residents over the past three years for land rent and labor from the cooperative established by the couple and the village.
Production increased from about 2 metric tons in 2018 to 5 tons in 2021.
"We have successfully taught the local farmers how to grow grapes and make wine over the three years. They now have a new source of income besides traditional farming and herding," Hua Sheng said.
Thanks to China's rural vitalization campaign since the 19th National Congress of the Communist Party of China in 2017, residents have adopted grape planting as a new source of income, said Tashi Phuntsok, Party secretary of the village of Nam.
"Now our villagers have mastered the skills of grape planting and winemaking, and they benefit financially from land rent and providing labor," he said.
Yudron, a resident of Nam, said she was pleased with the grape planting project in her village, which has contributed to her income and quality of life.
"By working in the vineyards for years, now we know how to make wine. We drink both barley and grape wine now. We love grape wine more, though, as it is healthier."
Contact the writers at palden_nyima@chinadaily.com.cn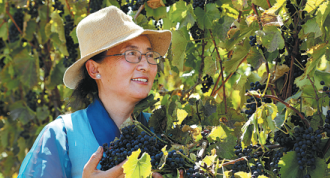 Lu Sheng picks grapes in a vineyard in Chushul county of Lhasa, Tibet autonomous region, in October. DAQIONG/CHINA DAILY