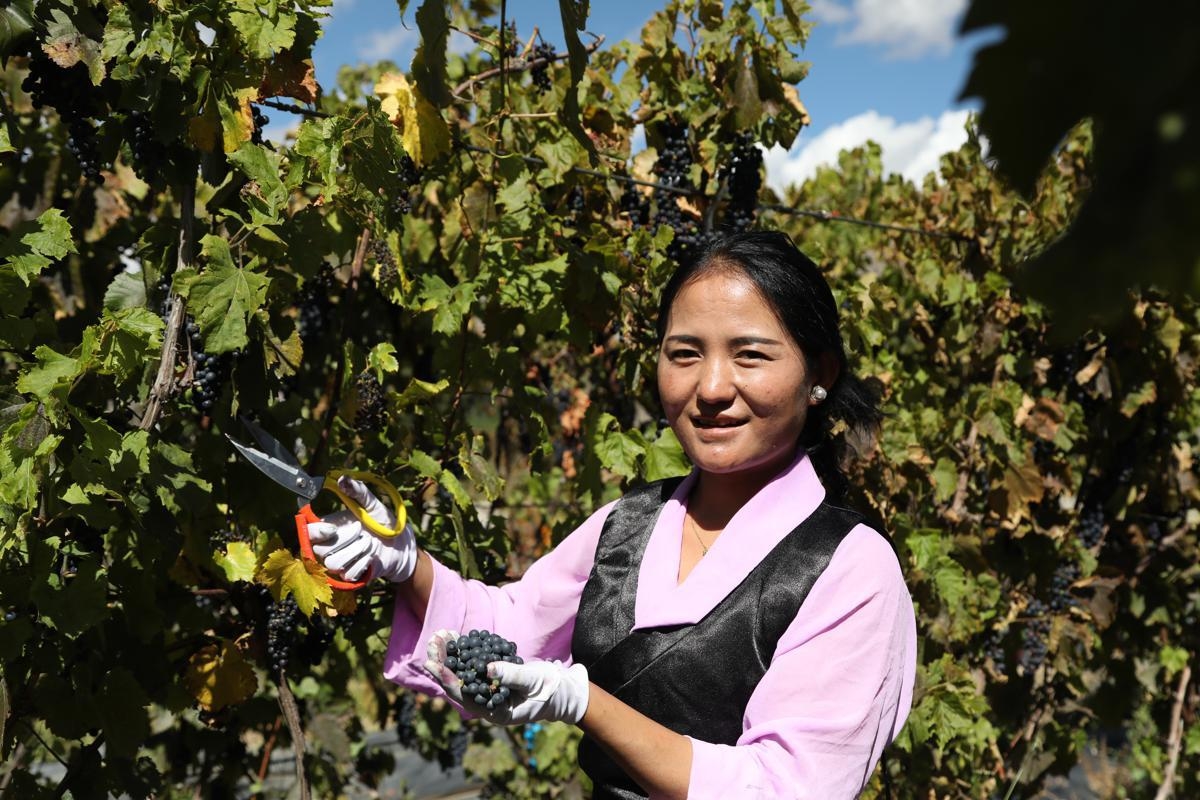 A Tibetan villager picks grapes in a vineyard in Chushul county of Lhasa, Tibet autonomous region. [Photo by Daqiong/chinadaily.com.cn]

A Tibetan couple have been planting French grapes in Lhasa of the Tibet autonomous region in recent years.
The couple, Hua Sheng, and Lu Sheng, are from Tsakhalo, in Markham county of eastern Tibet, which is famous for its natural salt flats and fruit production.
Unlike most Tibetan people who follow Buddhism and Bon, they are Catholics.
The religion, grape-growing and wine-making skills were transmitted by way of Tibetan Catholic nuns in the mid-18th century by French priests, and the tradition has been passed down.
Lu Sheng learned the skills of grape planting and wine-making from her grandmother, who was a Catholic nun.
Over a century, neighbors of the couple have been planting grapes and making wine in their home villages. Despite the common belief that grapes will not grow well in Lhasa, whose average altitude is 3,600 meters above sea level, they started a brave try in 2015, planting grapes in Tsalna township in Lhasa's Chushul county. They received support from the government for opening the business, because the project is regarded as poverty alleviation.
In 2018, they expanded their grape growing in Nam village of Chushul county, planting on nearly 6.67 hectares. More than 1.8 million yuan ($280,000) has been paid to the local residents for rent and labor over the three years.
"We have successfully taught the local residents how to grow grapes and make wine over the three years. They now have a new source of income besides traditional farming and herding," said Lu Sheng.
"Thanks to the plateau's sunshine and organic plantation, our grapes grow very well here in Lhasa. The grapes are a bit sour and sweet, and with high anthocyanin content," she said.
Tashi Phuntsok, Party chief of Nam village, said thanks to China's rural vitalization campaign since the 19th CPC National Congress in 2017, residents adopted grapes as a new source of income.
"Now our villagers have mastered the skills of grape planting and wine-making, and they benefit financially from land rent and providing labor," he said.
Yudron, a resident of Nam, said she was pleased with the grape planting project in her village, which contributed both in income and quality of life.
"By working in the vineyards for years, now we know how to make wine. We drink both barley and grape wine now. We love grape wine more, as it is healthier."
Tibetan villagers harvest grapes in Chushul county of Lhasa, Tibet. [Photo by Daqiong/chinadaily.com.cn]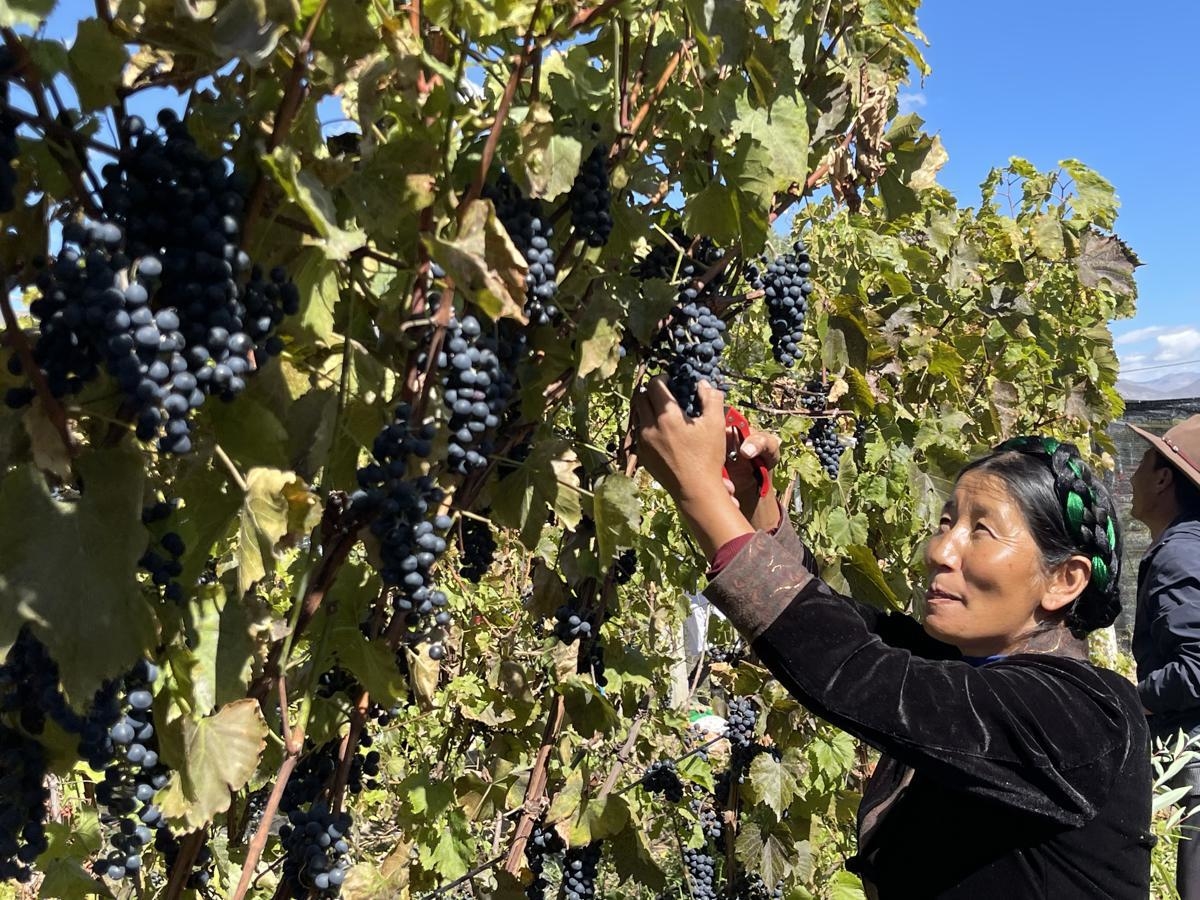 A Tibetan villager picks grapes in a vineyard of Lhasa's Chushul county in Tibet. Grapes provide both income and wine. [Photo by Daqiong/chinadaily.com.cn]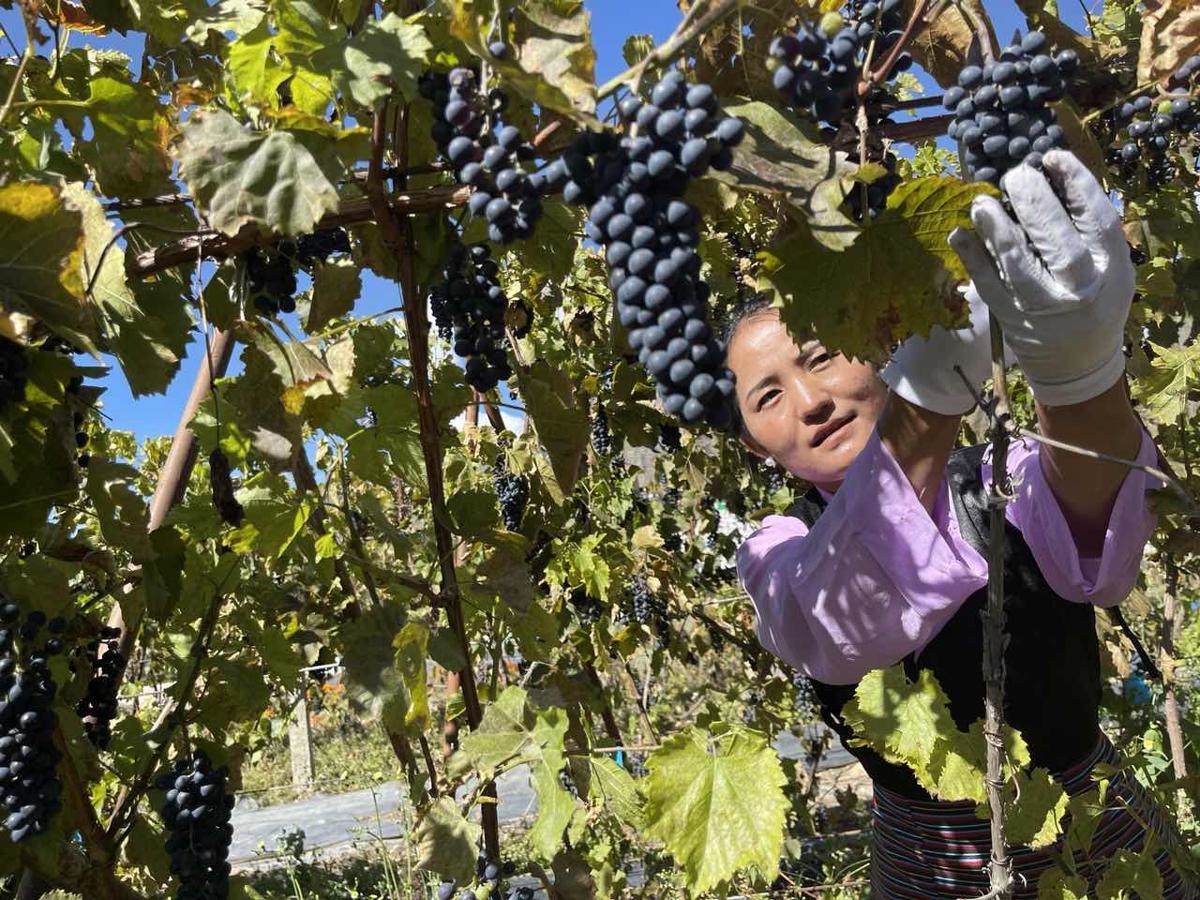 A Tibetan villager picks grapes. The crop provides a better income than conventional farming and herding. [Photo by Daqiong/chinadaily.com.cn]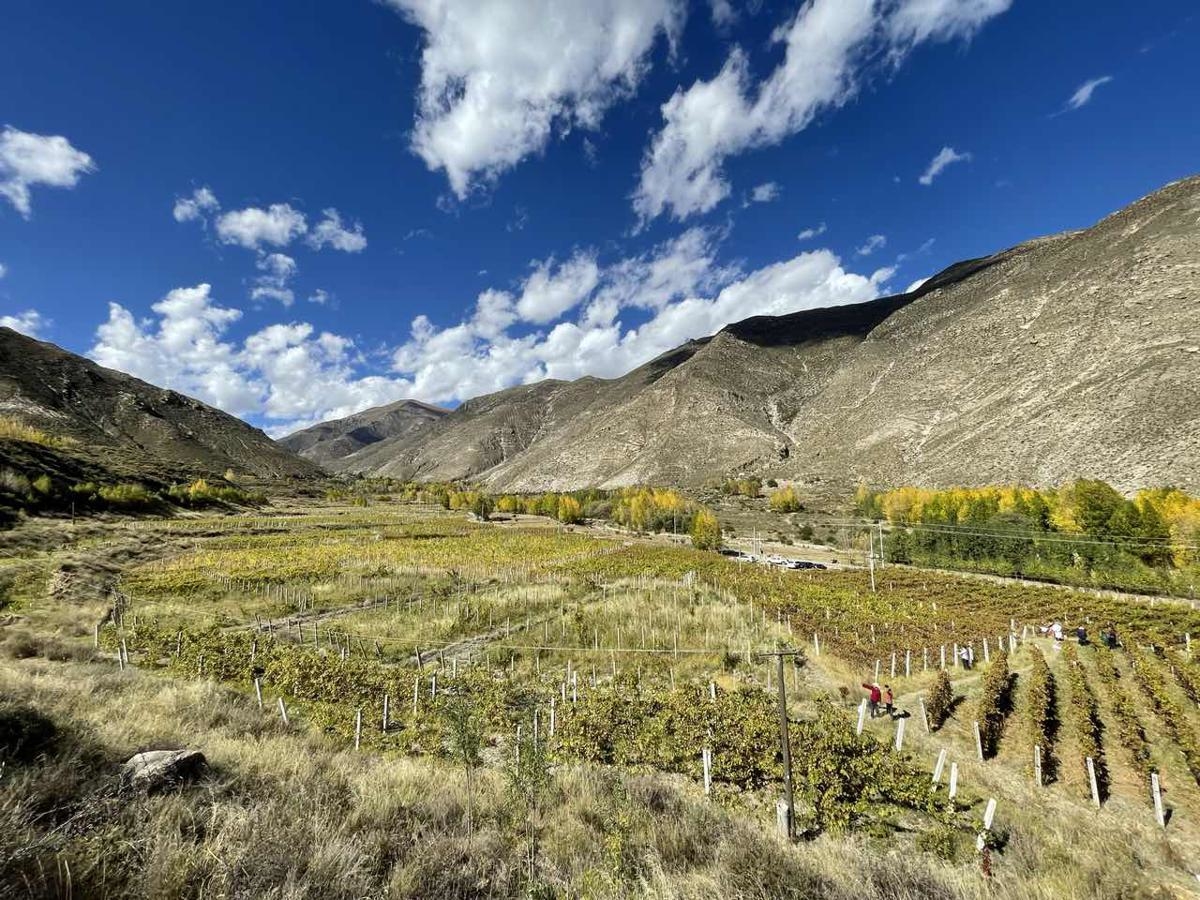 Nearly 6.7 hectares of land in Nam village in Chushul county of the Tibet autonomous region are planted with grapes. [Photo by Daqiong/chinadaily.com.cn]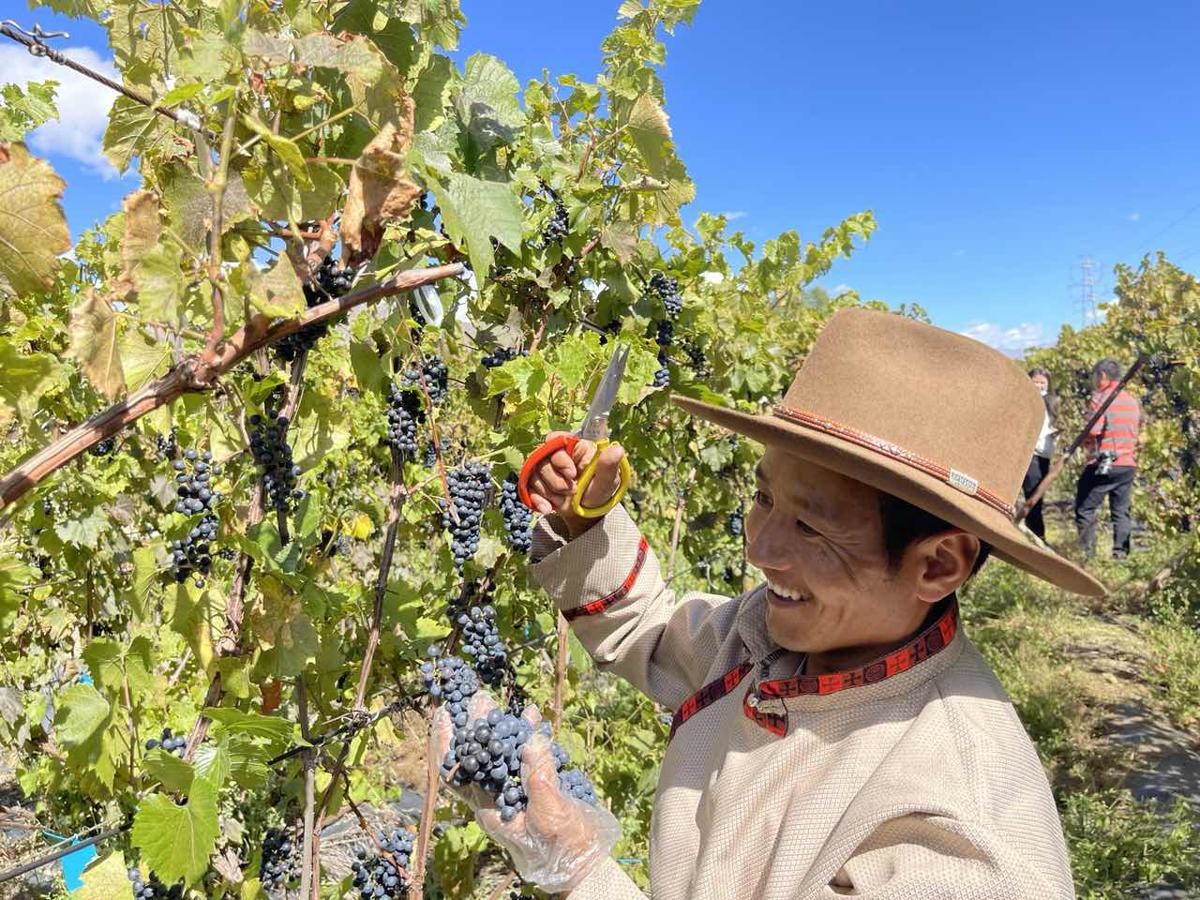 A Tibetan picks grapes in a vineyard in Chushul county of Lhasa, Tibet autonomous region. [Photo by Daqiong/chinadaily.com.cn]