There is a legend that the Tibetan galsang flower was enshrined to commemorate a non-native Buddhist monk dying of exhaustion while saving lives during a plague in Tibet in a remote age.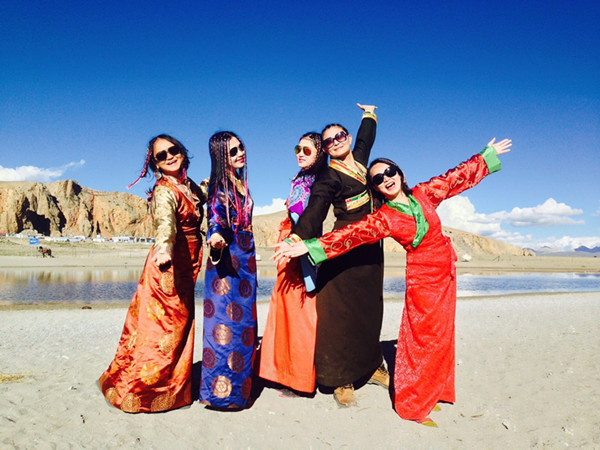 Ha Sha, Lyu Anni, Yang Jiayan, Bu Yi and Xu Shan (from L to R) embark on their philanthropic initiative to children from impoverished families in Changdu, in the eastern part of China's southwestern Tibet autonomous region in 2015. [Photo/Courtesy of Xu Shan]
Inspired by age-old Tibetan folklore, five women from Shanghai, Beijing, Jinan, capital of Shandong province and Sanya, Hainan province, have volunteered to blaze a trail for children from impoverished Tibetan families, helping them at least to complete their nine-year compulsory education, since 2015.
They named their initiative the "Galsang Flower Philanthropic Program" because the ethereal flower blossoming on the highest plateau of the world has five petals.
Although the five women - Xu Shan, Bu Yi, Yang Jiayan, Lyu Anni and Ha Sha - have developed no panacea to help locals avoid disease, they have healed young hearts living under impoverished conditions.
"A donation of 200 yuan (US$29), which may only cover an urban child's visit to an amusement park, can, however, cover the entire cost of items ranging from foods to miscellaneous charges of a young needy Tibetan for a month," Xu explained.
These women, who only met for the first time since Xu's online request for a travel companion in 2014, happened to bump into several Thangka painters during their trip to Lhasa, capital of China's Tibet autonomous region.
"Our charitable plan was motivated by Xia Duo, a vagabond-turned-painter from Changdu, (in the eastern part of Tibet), whose descriptions of local culture, scenery and customs enthralled us," Xu recalled.
Having sold his family's motorbike to subsidize his trip to Lhasa, Xia soon found himself penniless and homeless before meeting his teacher who taught him the technique of Thangka painting, which, according to Xia, became the turning point in his life.
Following Xia's introduction, the five women rendezvoused in Changdu the second year as they had promised, taking stationary and toys for local children after contacting Ding Dang, a local abbot at Champa Ling Monastery, who had recommended Sagang Xiang Primary School to them.
"We posted our itinerary on Wechat and received an enormous and enthusiastic response concerning what we had done. That is why we established the charity program: to receive donations from all walks of life and distributed them to help the pupils to continue their education," Xu explained.
By 2020, the program had received about 500,000 yuan in addition to donated clothes, stationary and books. Thanks to such generosity begun in the winter of 2015, the school has been equipped with a heating system so that the students no longer have to shiver in their thin clothes.
More importantly, the one-to-one donation with 200 yuan a month to a single child freed them from hard toil on the land before completing nine-year compulsory education.
Additionally, to broaden their views to a bigger world, three out of the five women organized a trip in 2018 by taking the school's 10 most outstanding students to Lhasa, where they visited the Potala Palace, Jokhang Temple and the Norbulingka (Jeweled Park). It was the first time for the children to stay in hotels, eat hotpot and Kentucky Fried Chicken, visit bookstores, go to a cinema and learn Thangka painting.
Eleven additional volunteers found via Wechat also rendered their assistance to the children en route.
"During their sojourn in Lhasa, they were not only impressed by the stunning scenery of the city, but also understood there are more meaningful vocations other than doctors and teachers that they had met through their sequestered hometown," Xu explained.
The children, who had been shy when first meeting the volunteers, became much more relaxed and chatty during their trip to Lhasa. They would occasionally offer a helping hand to the non-locals suffering exhaustion while climbing the dizzying steps to the Potala Palace.
"They strived to carry our backpacks or bolstered us from our back to help us reach the top. We were all deeply impressed by their kindness and sincerity," Xu recalled.
"I can still remember Qu Cuo, a girl I met in 2017 when we took the children on a three-day visit from Sagang village to Changdu County. She was so quiet and smiled all day long. Later I learnt she had always been the top student in her grade. The girl deserved our love," Ha said.
A few days ago, Bu led her teammates from Jinan to visit the children again in the beginning of their new semester. Despite the impact of the COVID-19 pandemic, the five women hope that they can sustain the program to flourish in the long run.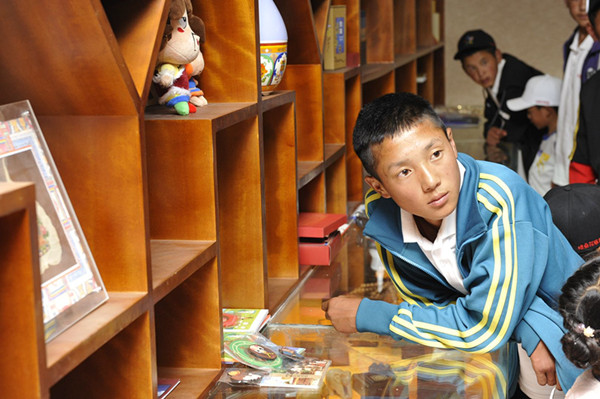 Ten most outstanding students from Sagang Xiang Primary School visit a book store in Lhasa, capital of Tibet, in 2018. The trip was considered a reward for their indomitable hard-working spirit. [Photo/Courtesy of Xu Shan]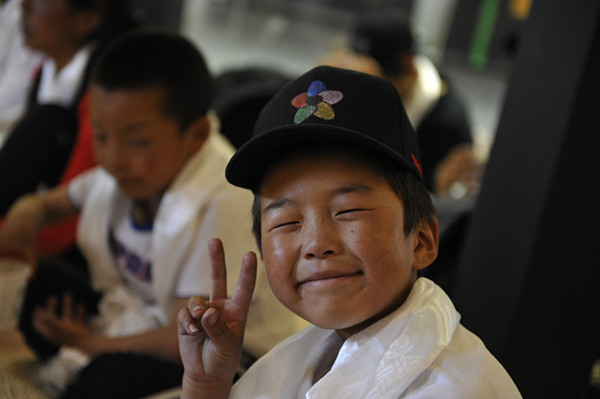 Ten most outstanding students from Sagang Xiang Primary School visit a book store in Lhasa, capital of Tibet, in 2018. The trip was considered a reward for their indomitable hard-working spirit. [Photo/Courtesy of Xu Shan]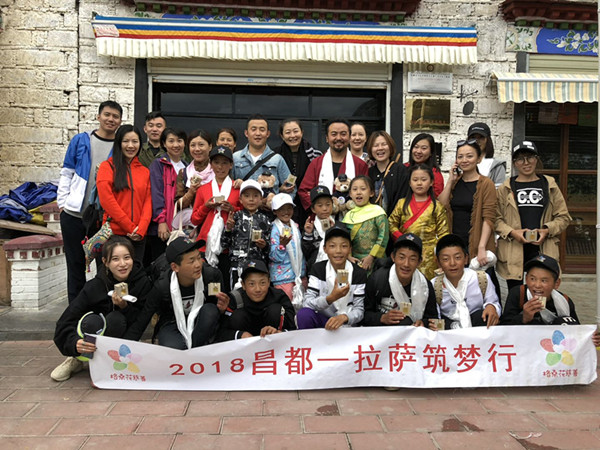 Group photo taken at Lhasa where 10 most outstanding students from Sagang Xiang Primary School celebrating their reward in a trip from Changdu to Lhasa. [Photo/Courtesy of Xu Shan]