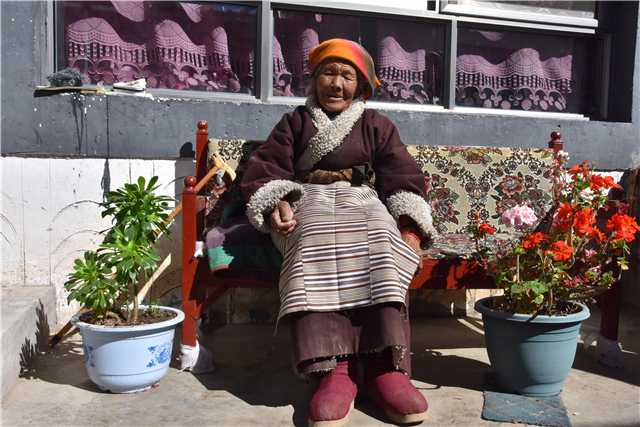 Samdrub Drolma, 82, sits at her home in Tibet's Chushul county. [Photo by Kalzang Lhundrub and Pei Cong/provided to chinadaliy.com.cn]
Samdrub Drolma, 82, has been a farmer her whole working life.
The overthrow of the feudal serf system in Southwest China's Tibet autonomous region on March 28, 1959, not only changed the way she and her family had farmed for generations, but also the way they live.
As the region celebrates the 60th anniversary of the system's end, Drolma, one of the few serfs still alive in the region, recalled the changes she has seen over the decades.
She told Tibet Daily that she lost her parents, serfs who were starved to death, at the age of 10, Three years later, she and two elderly sisters became serfs themselves.
By 1955 because of endless work and suffering, including hunger, cold and physical abuse, she fled, despite the risk of being caught and punished.
But the road to freedom wasn't easy, full of tears and hardship. Together with her aunt and one of her sisters, Drolma begged along the approximately 400-kilometer journey from their hometown to another village.
It was not until 1959 when China's People's Liberation Army arrived and told them that the serf system had been abolished that they resumed full freedom.
The next year, she and her two sisters for the first time enjoyed the harvest of their work, as they reaped barley from the land given to them by the government.
Today Drolma lives in a two-storey and 180-square-meter, Tibetan-style villa with her family, thanks to the region's poverty-alleviation policies.
Her daughter works as a cleaner for the county government, paid a stable income, while her granddaughter is a kindergarten teacher.
"It takes only an hour to Lhasa from here now with the new road built. In old times, we spent as much as three days," said Drolma.
Apart from better living conditions, Drolma and her family also benefit from the government's healthcare, education, and housing system.
"Good policy and a happy life are my secrets of longevity," said Drolma.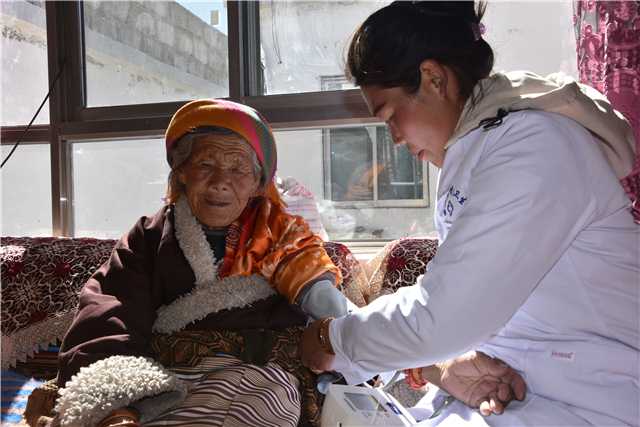 Samdrub Drolma receives a medical test from her family doctor. The village-based doctor visits Samdrub on a weekly basis. [Photo by Kalzang Lhundrub and Pei Cong/provided to chinadaliy.com.cn]
Samdrub Drolma shares her stories with grandchildren while surveying at a picture of Lhasa. [Photo by Kalzang Lhundrub and Pei Cong/provided to chinadaliy.com.cn]
Samdrub Drolma bids a Tibetan-style farewell as journalists leave her house. [Photo by Kalzang Lhundrub and Pei Cong/provided to chinadaliy.com.cn]