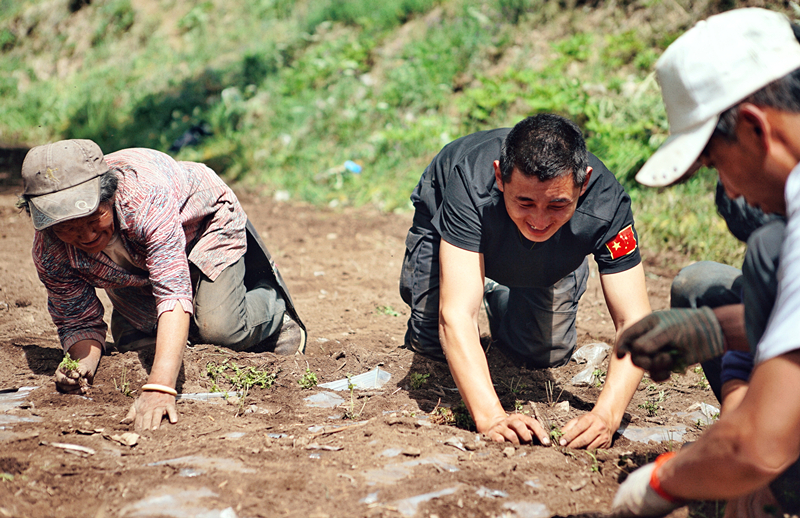 Motorbikes have replaced horses for patrols of remote area
Rgyalpo Phuntshogs hasn't showered for over 20 days. He sets out at around six every morning and returns home after eight at night after patrolling the mountain that climbs to an altitude of more than 4,000 meters in Yangla, the town in the north of Yunnan province he calls home.
Bordering the Tibet autonomous region to the northwest and Sichuan province to the northeast, the town is located amid the complex ridges and plunging valleys and gorges of the Hengduan Mountains. But while living in the mountains may sound peaceful and tranquil, it also means a lack of electricity and clean water, no internet or communication with the outside world.
Rgyalpo Phuntshogs, 23, is a member of the local police team that has been stationed in the town since the 1960s. He's assigned to patrol the mountain every day and make sure villagers do not get involved in disputes with people on the other side of the provincial border.
When the police station was set up, there were no paved roads, just pebbly mountain tracks, and police got around by taking turns riding a single horse. For more than 30 years, that's how they climbed the rugged hills, spending at least 10 days shuttling from Yangla's southernmost village to its northernmost.
Now, over half a century on, motorbikes have replaced the horse, and paved roads lead straight to the nearest city, Shangri-La. There's also new energy at the station, where the average age is just 27.
Seven young police officers and five assistants are now in charge of the Yangla area, which covers more than 1,000 square kilometers and includes four villages, 1,024 households and 7,195 residents.
Their daily tasks are not chasing down robbers or solving break-ins and murders, but looking for missing livestock or helping out in the fields.