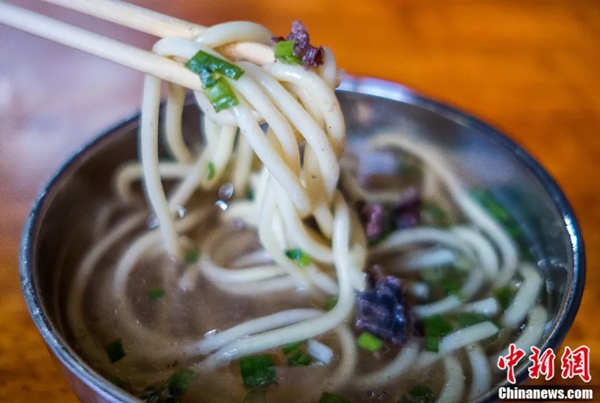 Noodles are very popular among the Chinese people, and certainly, there are various kinds of noodles. Today we are going to learn about the Tibetan noodles.
Winter is utterly cold in Lhasa, capital of Tibet Autonomous Region. Many Tibetans choose to have a bowl of Tibetan noodles as breakfast; the hot noodles can help them drive away the cold.
The Tibetan noodles are mostly made of highland barley, which is unique to Tibet and other Tibetan-inhabited areas, with some made of wheat. The noodles are often made, cooked well, and dried in advance. When you want to have it, you just need to cook some yak broth and boil the noodles in the broth. The noodles would taste half-cooked, which is a unique feature of Tibetan noodles.
As for the yummy yak broth, it is even more popular than the noodles. The broth has no addictive except for some salt, green onion, chilli sauce and yak meat. Besides, there is another mate for the Tibetan noodles, and it is the pickled radish.