Tibet is one of the fast-growing tourist destinations in the world. The region offers breathtaking scenery, rich cultural heritage and many unique opportunities. For these reasons, it is also one of the most favorite bucket list destinations. And, to the surprise of many, Tibet is a year-round destination. Many travelers share various misconceptions about traveling in winter. Yet, a travel to Tibet in Winter is especially rewarding just then.
For example, the welcoming region is most authentic in winter. You will hardly have many tourists about. Hence, you'll have gorgeous landscapes and tourist attractions virtually only for yourself. Plus, winter temperatures are not as low as travelers usually believe. For instance, you are likely to have higher temperatures in Lhasa than in Beijing.
Finally, expenses are the lowest by far for traveling Tibet in winter. In some cases, discounts range up to 50% when compared with the same type of service during other seasons.
So, if you ask yourself why you should travel to Tibet this winter, there are 3 compelling answers only to start with. And these are scenery, authenticity and prices.
Soak up the best pilgrimage atmosphere in Barkhor Street, Lhasa
Tibetan Buddhism is a religion playing a big part in the lives of the Tibetans. And their devotion to traditional beliefs are best appreciated during pilgrimages in winter. Then, the locals' religious fervor is most intense. Plus, the majority of the local populace is free from their farm works in winter. Thus, most people are able to take part in religious ceremonies.
There are many places in Lhasa where you can observe holy performances. Those are the Jokhang Temple, Ramoche Temple and the Canggu Nunnery among others. Yet, Barkhor Street is the focal point for a grand display of religious devotion. The street is usually filled with travelers during other seasons. In winter, though, Tibetan people replace the visitors, which are few and far between. Since few tourists are out there, every display is traditional and completely authentic.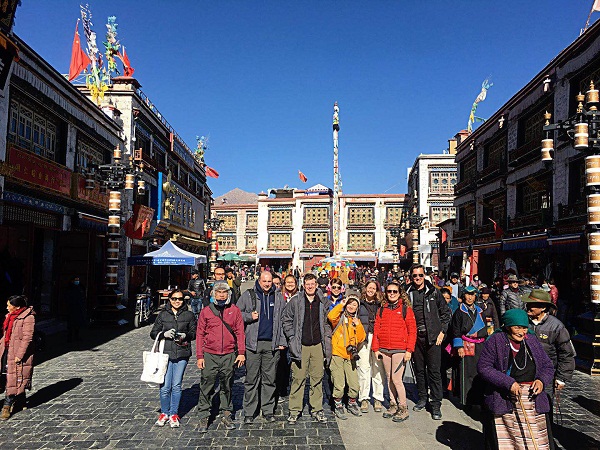 Tibetans of all ages join the procession and monks perform koras on the street. Mantra chants, meditations and other performances take place in the early morning at the Jokhang Temple. The prayer wheel, a traditional religious item, is the object you'll see many Tibetans use while praying. According to traditional belief, the wheel spreads spiritual blessings.