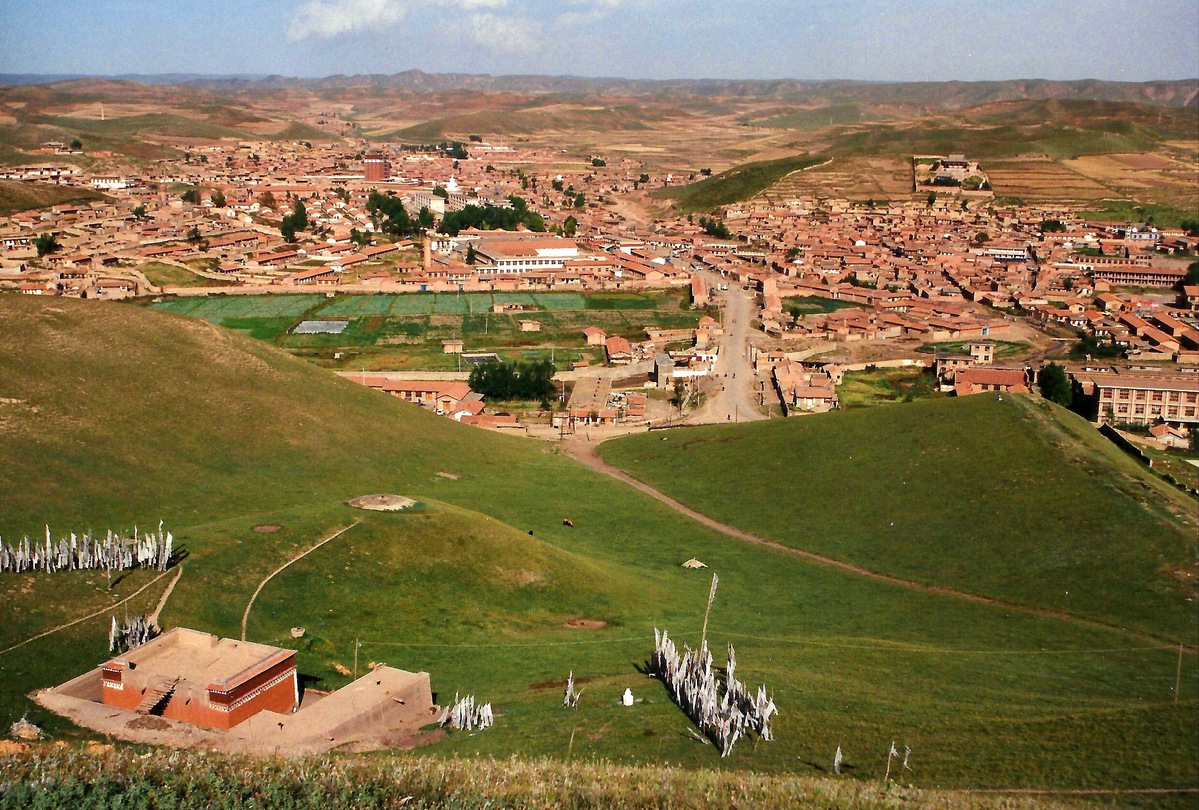 Hezuo in Gannan's Gansu1997.
[Photo by Bruce Connolly/chinadaily.com.cn]
Looking at an evening satellite image of China, it was apparent from the urban lights how relatively little human settlement there is in the country's northwest compared to the densely populated eastern areas. A consequence, of course, is much clearer skies with excellent visibility. This was certainly my impression while staying at Hezuo, the capital of Gannan Tibetan Autonomous Prefecture in Gansu, in September 1997. During the afternoon, I had been sitting on top of a grassy hill viewing the extensive grassy plateau that surrounded me. In the evening I looked from the roof of my guesthouse at a sky literally filled with shining stars. The air was so clean and fresh that I felt it was a pity to leave after only a short stay, but more experiences awaited me.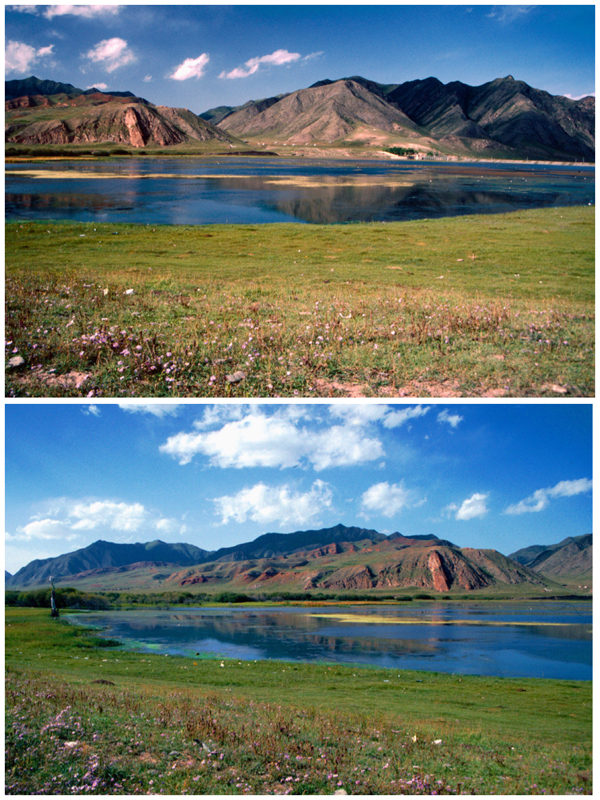 Lake on Daxia River near Xiahe 1997. [Photo by Bruce Connolly/chinadaily.com.cn]
As we drove out through the town in the early morning light, smoke rose from decorative chimneys atop the Tibetan-style homes, while monks wrapped in their crimson robes cycled past the 13-floor lamasery I had visited the previous day. Soon, as the crest of a wide pass was reached, the urban area drifted behind. The scene changed to herders on horseback looking over flocks of sheep and black-coated yaks, while above the sky formed an intense blue with a scattering of fluffy white clouds. Gradually Highway G213 descended toward the tree line. While that route would continue down to Lanzhou, we turned left onto Provincial Road S312 for a westward climb alongside the picturesque Daxia River. Dark forests clung to steep overhanging slopes above cascading waters, crashing over great boulders. At times simple wood and wire footbridges led across the river, allowing access to and from remote hillside villages. Winding higher up the gorge, we passed herders and monks beside the highway. White stupas rose above the cliffs next to mountain temples.
After an hour's drive, the landscape opened up to reveal a wider valley. A sign proclaimed "Welcome to Xiahe", a town that would become one of the more fascinating places I had visited in my recent travels. I would stay in a compound beyond the town in a room modeled on a large Tibetan-style tent. But before checking in, I climbed a grassy hill on the south bank of the river. The view of the town was stunning, with its gilded Gongtang Pagoda and vast Labrang Monastery set below a backdrop of the Phoenix and Dragon Mountains. Below, across a wooden bridge stretched a wall several kilometers long, enclosing the pagoda, monastery and parts of the Old Town. The wall was lined with prayer wheels constantly spun by lines of visitors walking clockwise beside the wall. Many were dressed in heavy Tibetan attire.