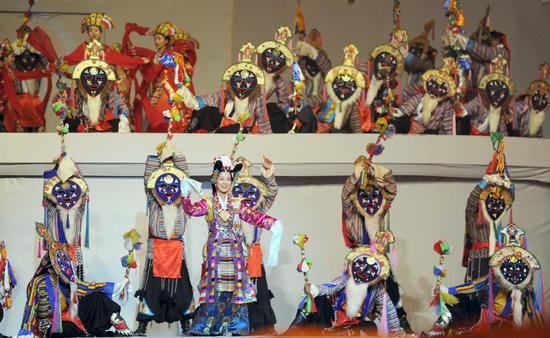 Artists perform a Tibetan dance routine at the Fourth China Tibet Tourism and Cultural Expo on Friday. (Photo by Phenthok/Tibet Daily)
Visitors bring cash, but ecology more important, region's chairman says
The Tibet autonomous region will put environmental conservation ahead of tourism development, officials said at the Fourth China Tibet Tourism and Cultural Expo, which is scheduled to close on Tuesday.
The region's tourism industry has been developing quickly in recent years and has become a growth driver, Qizhala, chairman of the regional government, said during the expo. Tourism contributes at least 30 percent of Tibet's GDP, he said.
The number of tourists from home and abroad that Tibet receives annually is expected to reach 30 million, up from 10 million in 2012 and 20 million in 2015, he said.
Despite the breathtaking tourism boom, the regional government has always made the environment the bottom line, he said. It is working with experts specializing in the Qinghai-Tibet Plateau, and listening to their advice on balancing environmental protection with tourism. Efforts are being made to prevent "blind development and overdevelopment", he said.